Betty White GoFundMe page is allegedly raising money for a small South Carolina theater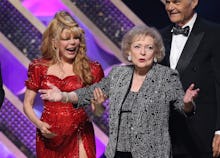 2016 has taken some of the world's most profound artists from us: David Bowie, Prince, George Michael and Carrie Fisher, just to name a few. To be sure, it's been a difficult year, and with all the celebrity deaths that have transpired in the last 12 months, one GoFundMe user is intent on protecting Betty White from any potential harm until Jan. 1, 2017 — or at least using her name to raise money for his local theater.
Demetrios Hrysikos claims he created the GoFundMe page to raise funds to save White from 2016. He's already surpassed his $2,000 goal and has offered to use the money to catch a flight to White's home and stand guard outside her door. 
"Help 2016 catch these hands if it goes anywhere near Betty White! If she's okay with it, I will fly to wherever Betty White is and keep her safe till Jan 1, 2017. Now, assuming she doesn't want a strange Greek standing guard outside her door, all monies will be donated to the Spartanburg little theater to help craft new stars of stage and screen to carry mantle of legends the have left us this year."
However, while the title of Hrysikos' GoFundMe campaign reads "Help protect Betty White from 2016," all the funds will go to the Spartanburg Little Theatre in Spartanburg, South Carolina. After raising more than $3,000 dollars, Hrysikos posted an update to his GoFundMe page, thanking those who donated and clarifying his intentions.
"HELLO EVERYONE! Wow, I've been busy at work for a while and opened my phone to this kinda going viral. Firstly, I'd like to thank everyone who has donated and shared so far. Thank you SO MUCH! Secondly, I had no idea this would go so far but I'm happy it did. The idea came to me after news of Carrie Fisher's passing to try and put a smile back on some people's faces and do some good! Other than liking to support our local arts and having a friend who works at the little theater, I don't have any connection to it, I just thought it would be a good place for any money made to go. 2016 has taken so many great artists and SLT helps support and nurture new budding talent in our town. I'd like to think that Betty, Carrie and Bowie would be happy with any proceeds going to that cause, which I assure you it WILL! This has been unexpected but let's make it a good thing! We need new artists to carry the mantel of all the great ones we lost this year, so keep sharing and donating to ensure a better 2017 for the arts.
The internet has already turned Hrysikos' efforts into a movement, with the hashtag #BettyWhite trending on Twitter. Donations to Hrysikos' GoFundMe campaign continue to pour in. 
While the money isn't really going to protect Betty White, Hrysikos' clever idea serves as an innovative way to fund his local theater.
Mic has reached out to the Spartanburg Little Theatre for comment but has not heard back.