New Year's Eve is overrated — here's everything wrong with it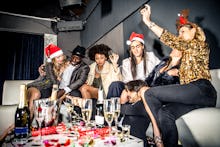 New Year's Eve is just around the corner, which means it's almost time for the annual disappointment that is the year's worst holiday. That's right — NYE is overrated and everyone knows it. 
It's one of the only nights of the year you feel like you have to go out, even if you really, really don't want to. And if the clock strikes midnight and you've got no one to kiss? Well, that also feels pretty not-great.
NYE is overpriced, overhyped and always sort of disappointing. Here are some of the reasons the last night of the year is easily the worst night of the year.
Bars are super crowded
NYE is one of the busiest nights of the year for bars, according to TheDailyMeal.com. As one bartender told the site, that's great news if you're working because it means a major haul in tip money. But it's not as much fun if you're packed into a crowded bar and can barely move — or if you have to fork over a costly cover just because it's Dec. 31.
Getting a ride is expensive
What happens when everyone in the whole world goes out to party on the same night? It's impossible to find a cab and Uber surge pricing goes through the roof. According to Uber, NYE is one of the company's busiest nights of the year. 
After 2016's NYE, people all over the country reported surge prices that made their rides exponentially more expensive. One rider reported a trip that normally cost $20 in an Uber cost more than $200 on NYE, according to BuzzFeed News.
The pressure to kiss someone is lame
You should never feel like you have to kiss someone just because of the date — that's pretty weird. Yet for some reason, we all collectively decided that if you don't kiss someone as the old year ends and the new one begins, you might as well resign yourself to being alone forever. Or something like that.
But whether or not your mouth touches someone else's NYE doesn't say anything about you or your year ahead — so maybe it's time to let go of the pressure to have a NYE kiss. And whatever you do, don't just grab a random stranger and kiss them without their consent.
You'll get a lot of mass texts
Do you get that buzzed feeling just as the clock strikes midnight? No, that's not from the champagne or the holiday spirit — that's your phone blowing up with mass texts that say "Happy New Year's" with a cute emoji. Don't get too excited about these texts, as there's a 100% chance they went to 100 other people.  
The day after is bad, too
The only thing as underwhelming as NYE? The day after. Because once the glitz and glamour of the holiday are over, you're left with a hangover, a pile of old confetti and a pair of "2017" glasses you can never use again. 
Oh, yeah, and there isn't another holiday to look forward to until Valentine's Day — and don't even get let us get started on that one.