'Mario Kart 64' for Wii U Release Date: N64 game confirmed for Nintendo's Virtual Console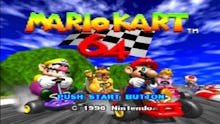 Mario Kart 64 on the Wii U Virtual Console has been a glaring hole in Nintendo's eShop library for years, but Nintendo has a late holiday gift for Wii U owners. The widely beloved kart-racing game is coming to Nintendo's Wii U Virtual Console on Dec. 29.
Mario Kart 64 on Nintendo Wii U: How to download the game
Mario Kart 64 can be downloaded via Nintendo's eShop here. Wii U owners can indulge in some video game nostalgia for just $9.99. Buying the game early will also earn you 10 My Nintendo Gold Points. 
As always, Mario Kart 64 supports local multiplayer for up to four players on the Wii U. Unfortunately, this game is only coming to the Wii U's Virtual Console for now. Nintendo 3DS owners are still out of luck.
Mario Kart 64 on Nintendo Wii U: Which controllers work with the eShop download?
Mario Kart 64 on the Wii U will support three controller configurations: the Wii U GamePad, the Wii U Pro Controller and the Wii Classic Controller (attached to a Wii Remote Plus) can be used to play the game. 
Mario Kart 64 making its way to Nintendo's latest console marks an important milestone for the Wii U. Unfortunately for you (and Nintendo), if you don't own the system already, you'll have a hard time finding one to get in on the Mario Kart 64 action. 
Nintendo confirmed it was ending production of the console before releasing the new Switch system in March 2017. So tracking down a new Wii U won't be easy. 
Check out more Nintendo reviews and coverage
See more of our Nintendo coverage. Whether it be tech specs for the Nintendo Switch, reviews of Super Mario Run or learn more about the gen 2 Pokémon to make their way to Pokémon Go, we've got you covered. Or if you just read about more Mario Kart that's cool, too.