New Year's Eve ideas to do with your boyfriend, girlfriend or significant other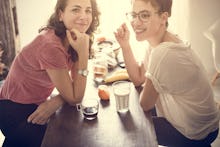 New Year's Eve has always been one of the best holidays for lovers. So if you're excited to ring in 2017 with your honey, here are some ideas for fun things you can do together, most of which won't even break the bank. 
Go out together 
This one's a classic, and there are usually plenty of parties on the last night of the year where you can dance, cuddle and kiss at midnight. If you and your significant other love to party, this is the night to do it. 
Invite your friends over 
Throwing a party can be fun, especially if you're starting to get serious: It can be a good way to announce yourselves as a true couple to your buddies. A good tip is to ask your friends to bring food, booze and party favors in order to make the night less expensive for you and your partner. 
However, it's usually a good plan to invite mutual friends if you have them. New Year's Eve can sometimes be a stressful night, and you don't want to end up fighting in the bathroom about how you hate each other's friends. 
Have a selfie photoshoot 
Feel like going out but can't spend too much? Many neighborhoods and shopping areas will be beautiful and lit up on the night of the 31st. iDiva suggests that you go out with your SO and take pictures together. Take it seriously and try to get as many good pictures as you can. That way, even when the night is over, you'll have some great memories. 
Get back to nature 
If you are part of a couple that doesn't like parties and craziness, now's your chance to get into nature. If you have a little extra money, you can rent a cabin together, away from the holiday insanity. If you're a little light on cash, Your Tango suggests renting a boat and rowing out into a lake under the moonlight. You'll probably see some fireworks, and if not, you can make some metaphorical ones yourselves. 
Do something you've never done before 
The year's almost over, so it's time to have an adventure. Ask your SO what they've always wanted to do but have never done before, like going ice skating, playing paintball, etc. Having an adventure together can remind you of why you got together in the first place and why you wouldn't want to spend this special evening with anyone else. 
Adopt a pet 
It's good to make sure your relationship is ready to handle a step this big, so talking about adopting a pet before doing it is an absolute must. But if you think you two are up to the responsibility, there's no better time to bring home a new furry friend. According to the ASPCA, "Approximately 7.6 million companion animals enter animal shelters nationwide every year," but you can make sure one of them starts off the new year with a home. Bonus: Because most people are off work on New Year's Day, you'll have all day to play with your new pet!
Stay in and be romantic 
Remember what we said about New Year's Eve being stressful? Why not skip it altogether and spend the night in together. If you're a new couple, it will be hella romantic, and if you've been together for a while, it will help you rekindle the flames. Talk, watch your favorite shows, reminisce about the past and get drunk. And when the ball drops, you won't have to find your honey for that midnight kiss because they'll be sitting right there next to you.