Add Rihanna to the list of people who don't know Jennifer Lopez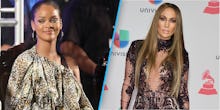 Jenny from the Block is now Jenny getting blocked. 
Less than a full day has passed since Drake shared a snap on Instagram of him and Jennifer Lopez cozying up to each other. Proving that celebrities are not above Instagram drama, Rihanna reportedly unfollowed Lopez some time after the pic went up on social media, according to E! News. 
Lopez and Rihanna were reportedly friendly before Drake shoved a wedge the size of Canada between them. Earlier in the year, Rihanna gifted Lopez with a pair of navy boots from her collaboration with Manolo Blahnik. 
"Because I know you're gonna wear them better than me!" Rihanna wrote in a note accompanying the shoes. 
Lopez eventually wore the boots in her video for her single "Ain't Your Mama," which prompted a gushy post from Rihanna on Instagram. 
Drake all but professed his love for Rihanna earlier this year at the MTV Video Music Awards, where he gushed about the singer in front of the entire world. 
"She's someone I've been in love with since I was 22 years old," he said. 
Rihanna has enough going on in her life to keep her busy — a fashion line and a role in the upcoming Ocean's Eight are just a few of the singer's forthcoming projects. But if she finds herself missing Drake, or thinking about her friend J.Lo, there's a four-word mantra she needs to learn ASAP: "I don't know her."