Massachusetts legal weed law undercut by just 7 state legislators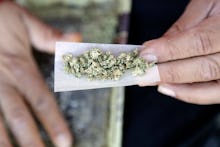 Half a dozen Massachusetts legislators voted on Wednesday to pass a bill undercutting significant portions of the state's new marijuana legalization law, striking a blow against a change in policy approved by 1.8 million voters, the Boston Globe reported.
The new legislation will delay the opening of the state's future recreational marijuana dispensaries by half a year, switching the date from January 2018 to the middle of the summer. However, the legislators did not undo portions of the law allowing for people in the state to possess up to an ounce of marijuana and grow up to six plants in their home without legal repercussions.
Massachusetts legislators were mostly not present during the busy holiday season. Just two senators, Democratic Senate President Stanley Rosenberg and GOP Minority Leader Bruce Tarr, were present for the vote in the state senate, as well as just five members of the state House of Representatives, according to the Globe. Both houses of the state legislature took less than a minute to pass the bills.
Legislators said they had concerns the January 2018 date was too soon to set up the extensive state bureaucracy which would handle licensing, taxation and regulation.
"The Legislature has a responsibility to implement the will of the voters while also protecting public health and public safety," Rosenberg told the paper. "This short delay will allow the necessary time for the Legislature to work with stakeholders on improving the new law."
The switch means there will be no legal way for those in Massachusetts to legally purchase marijuana, although people in the state will still be allowed to trade marijuana grown in private residences without any financial transactions involved.
"We're very disappointed with what they did and with the way they did it," campaigner Jim Borghesani told Reuters. "We're disappointed that they extended this awkward period we're in now where possession is legal but sales are not."
Marijuana remains illegal under federal law, and it is unclear what will happen to the eight states which have passed some form of recreational marijuana legalization under the future administration of President-elect Donald Trump. Trump has chosen Alabama Sen. Jeff Sessions, an outspoken advocate of hardline drug war enforcement, to head the Department of Justice — which could freely enforce said federal law as it chooses under his tenure.