Debbie Reynolds, mother of Carrie Fisher, dies at age of 84 after stroke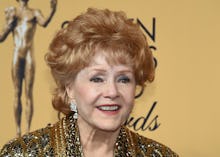 Hollywood legend Debbie Reynolds died at the age of 84 on Wednesday, TMZ reported, after experiencing a stroke.
The celebrity gossip site wrote Reynolds had been distraught since her daughter, Carrie Fisher, died on Tuesday at the age of 60. Reynolds was reportedly at her son's house when she was rushed to the hospital.
Hours before Debbie's death she said, "I miss her so much, I want to be with Carrie," Reynolds' son Todd Fisher said, according to TMZ.
In a November interview with NPR, Fisher said Reynolds had already survived two strokes in 2016.
On Tuesday, Reynolds shared a message of gratitude to her Facebook page.
"Thank you to everyone who has embraced the gifts and talents of my beloved and amazing daughter," she wrote. "I am grateful for your thoughts and prayers that are now guiding her to her next stop."  
Tom McKay contributed additional reporting to this article.
This is a breaking news story and may be updated as more information becomes available.