Donald Trump says he's considering "public-private option" for veterans' health care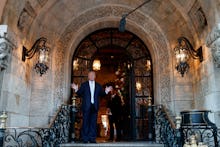 The incoming Donald Trump administration is considering a "public-private option" for military veterans to get health care, a senior aide to the president-elect said on Wednesday.
Trump spoke briefly with reporters after a day of meetings, including talks with top health industry officials, but initially left explaining the details — what there were of them — to his staff.
Wednesday night, Trump emerged from his Florida resort, Mar-a-Lago, to speak for himself — with boxing promoter Don King at his side.
The Republican campaigned heavily on improving treatment options for the nation's former servicemembers, particularly in the wake of a series of scandals which have plagued Veterans Affairs care facilities.
"We're working on something to make it great for the veterans, because the veterans have been treated very, very unfairly," Trump said when asked follow-up questions about an aide's earlier remarks to pool reporters that the president-elect is interested in how the United States would "get vets the ability to go to any hospital they wanted to go to, regardless [of whether] you were in the VA or out of the VA."
Asked if he was specifically talking about access to private healthcare facilities, Trump responded: 
"Well, I don't want to see veterans waiting in line for two weeks, and you know, in many cases, they have a minor illness, and it takes so long to see a doctor, it turns out to be a major illness and beyond that. And I don't want to see that anymore. So we'll see what happens ... The doctors were explaining to me today — things that can be taken care of quickly, when you wait too long, it's life-threatening. People are dying. So we're going to fix it properly, not like it's been done over the past, ok?"
The official who spoke to reporters in Florida and went unnamed in pool reports emphasized nothing's been decided, but there's "an option on the table to have a system where potentially vets can choose either or, or all private."
Among those who visited Trump's estate in Palm Beach were, per pool reports, Toby Cosgrove of the Cleveland Clinic, John Noseworthy of the Mayo Clinic and Paul Rothman of Johns Hopkins, along with David Torchiana of Partners HealthCare and Marc Sherman of restructuring firm Alvarez & Marsal.
The transition team official said Trump and his visitors talked about possibly forming an advisory committee "to help us navigate through what's a very complicated process, providing healthcare to veterans. These are people that know what they're talking about." 
However, nothing has yet been formalized. "Right now, it's a conversation about how to fix the problem," the official said.
Trump, who spoke only briefly to the press during the day before the evening's extended remarks, also met with former Wisconsin Gov. Tommy Thompson, reportedly to discuss the president-elect's vow to repeal President Barack Obama's signature Affordable Care Act.
There has been longstanding opposition to privatizing health insurance, both within and without the veteran-care realm, for a variety of reasons. 
One of the most salient arguments holds that in a private system, as Dr. Marcia Angell of Harvard Medical School put it in a 2008 essay, "health care is distributed not according to medical need but, rather, according to the ability to pay" and "in fact, those with the greatest need are those least able to pay."
Others who question the wisdom of privatizing the VA, which has already seen programs that allow for use of some private-sector services, say the standard healthcare system doesn't have the specific skills needed to care for wounded vets. 
Objectors also argue the VA provides integrated care of a kind unavailable outside the current system, flawed though it may be; that it cannot compete with private healthcare financially and that a voucher-like system wouldn't cover all the costs the VA pays for now.
Asked about potential resistance to privatization, the Trump official responded, per the pool report:
"We think we have to have kind of a ... public-private option, because some vets love the VA ... Some vets want to go to the VA. ... So, the idea is to come up with a solution that solves the problem. And it's not the easiest thing in the world, because you've got all these little kingdoms out there, which is hard. You know, in the federal government, it's hard to break things up and start over. So, those are the types of things that people are talking about." 
Trump, who started his day by launching a Twitter broadside at Obama, later switched it up by telling reporters in Florida he had spoken to the president on Wednesday and "we had a very nice conversation."
The incoming president also announced Sprint would return 5,000 overseas jobs to the United States.
He additionally said Secretary of State John Kerry's speech on the recent United Nations resolution condemning Israeli settlements in the disputed West Bank spoke for itself. 
"We have differing views. We need to have peace. I think it set it back, but we'll see what happens after January 20," Trump said as King remained at his side with American and Israeli flags in hand.
The president-elect, who has not had an extensive question and answer session directly with reporters in weeks, promised a news conference in January.