President Obama declares two new national monuments in effort to prevent Trump drilling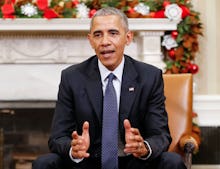 President Barack Obama used his executive authority to preserve 1.65 million acres of land on Wednesday, declaring the 1.35-million acre Bears Ears monument in Utah and 300,000 acres in Gold Butte, Nevada near Las Vegas as national monuments, CNN reported.
According to the Christian Science Monitor, Obama invoked the 1906 Antiquities Act to designate the lands off use for future oil and gas drilling, as well as mining, which will be difficult for the incoming administration of Republican President-elect Donald Trump to reverse.
Obama's decision to protect the lands from future development flies in the face of Trump, who has committed to opening large stretches of federally managed land to energy and resource extraction operations. Trump has made no secret of his plans to deregulate the fossil-fuels sector and dramatically expand drilling and mining operations. His pick for secretary of the interior, Montana Rep. Ryan Zinke, has a 3% rating from the League of Conservation Voters.
As the Washington Post noted, Obama has created "national monuments 29 times during his tenure, establishing or expanding protections for more than 553 million acres of federal lands and waters."
Obama also recently declared large stretches of the Arctic and Atlantic oceans off-limits for future drilling, invoking other executive powers analysts said will be hard to reverse. Republicans in Congress are examining legislative options to reopen most of the lands and waters Obama has closed to energy extraction operations.
"Encompassing roughly 1.35 million acres of Federal land, the Bears Ears National Monument will protect some of the country's most significant natural, cultural and archaeological resources, including important ancestral grounds for numerous tribes, as well as incredible landscapes that support hiking, hunting, rock climbing and other world-class outdoor recreation opportunities," the White House wrote in a statement.
"Located in Clark County, Nevada just northeast of the outskirts of Las Vegas, the Gold Butte National Monument spans nearly 300,000 acres and will protect significant cultural resources, important geological formations, and vital plant and wildlife habitat," the administration added.