Watch Carrie Fisher and Debbie Reynolds sing a duet of "Happy Days Are Here Again"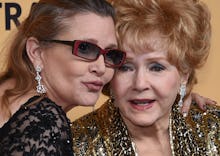 Carrie Fisher, known to fans around the world as the iconic Princess Leia from Star Wars, died just days after suffering either a heart attack or cardiac arrest while on a flight to Los Angeles from London. She was just 60 years old. Her mother Debbie Reynolds, herself an amazing actress known for roles in movies like Singin' in the Rain, died of a stroke just one day after her daughter, at age 84. 
In the wake of their deaths, fans have been sharing memories of the two actresses — including a duet of the two singing "Happy Days Are Here Again" on the Oprah Winfrey Show in 2011. 
Strained relationship 
Fisher and Reynolds didn't always see eye-to-eye on things. 
"The family is organized [around] the parents, [whereas] normally the family is organized around raising the child," Fisher told Oprah Winfrey on her talk show in 2011. Fisher also had her own struggles with drug use, which she later channeled into helping to end stigmas against mental illness.
Fisher also wanted to create her own identity, and not be known as just "Debbie Reynolds' daughter." For almost 10 years the two barely spoke. "It's very hard when your child doesn't want to talk to you and you want to talk to them, and you want to touch them, you want to hold them," Reynolds said of their estrangement. 
Reconciliation
But the bond between mother and daughter was stronger than their frustrations with each other, and in recent years the two had reconciled their differences. Time was a huge factor in their healing process. "It took like 30 years for Carrie to be really happy with me," Reynolds told People. 
"She has been more than a mother to me. Not much — but definitely more," Fisher said of her mother in 2015 during a speech honoring Reynolds at the Screen Actors Guild Awards.