Trump didn't convince Sprint to bring back 5,000 jobs. But he wants credit for it.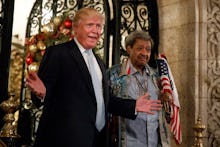 Sprint is bringing 5,000 jobs back to the United States — and President-elect Donald Trump wants credit for it.
"Because of me they are doing 5,000 jobs in this country," Trump said late Wednesday afternoon at his Mar-a-Lago estate in Palm Beach, Florida.
But Sprint had already had plans to bring these jobs to the United States. 
The jobs are tied to an October announcement from Japan's SoftBank — Sprint's parent company — and Saudi Arabia's wealth fund, which stated they were launching a $100 billion tech fund together to invest in both start-ups and established tech companies such as Sprint, the New York Times reported.
Still, Trump's announcement late Wednesday afternoon earned him favorable headlines.
And that has critics of the president-elect angry at reporters, who they said merely wrote up Trump's claim without checking its veracity. 
This is not the first time Trump is taking credit for a company's decision.
In November, Trump took credit for Carrier's decision to keep about 1,000 jobs in Indiana, rather than move them to Mexico. 
But Carrier had already made that announcement in February. And the company is still moving another 1,000 jobs to Mexico.