Debbie Reynolds movies: Here are the late actress' most famous film roles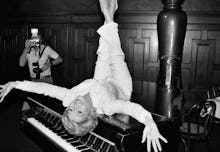 Actress Debbie Reynolds, who died on Wednesday at the age of 84, had a career that spanned more than seven decades. Although many will remember her for her singing talents, she was also a brilliant actress who could portray non-musical characters with greatness. Here's a list of some of her greatest roles during her illustrious career.
Kathy Selden, Singin' in the Rain (1952)
In her breakout role, Reynolds portrayed Kathy Selden in the theatrical version of Singin' in the Rain. Just 20 years old when the film was released, Reynolds had a daunting task — holding her own onscreen with star Gene Kelly, who was 20 years her senior. 
Reynolds rose to the occasion (with a bit of advice from Fred Astaire) and, in the process, became a star. Years later, she would say she was fearless in her approach to the role that launched her career. "I was just lucky that they put me in that part that suited me," she said. "... I felt it was me and I really just marched straight ahead and I wasn't frightened of the huge task."
Tambrey "Tammy" Tyree, Tammy and the Bachelor (1957)
In 1957, Reynolds starred in another career-defining role as Tambrey "Tammy" Tyree in the musical Tammy and the Bachelor. In this role, she played a country teenager searching for love. The film helped propel Reynolds' singing career further, as the song "Tammy" stayed on Billboard's Top 100 chart for popular music for five weeks.
Molly Brown, the Unsinkable Molly Brown (1964)
In this semi-biographical musical of the life of Molly Brown, the famous socialite who survived the sinking of the Titanic, Reynolds again brought her musical skills to the big screen. Her portrayal of the larger-than-life Brown earned her an Oscar nomination for best actress, but she lost that year to another actress in a musical — Julie Andrews, who won for Mary Poppins. 
Beatrice Henderson, Mother (1996)
Reynolds proved she could be a versatile actress even in her later years. In in the appropriately titled, Mother, she starred opposite Albert Brooks, playing his character's mother, Beatrice Henderson. Though overbearing and prone to taking subtle jabs at her son (lovingly, of course), Beatrice provides Brooks' John Henderson with a home during his second divorce. But he soon finds it's more than he bargained for — including her intrusion into his eating habits.
Aggie Cromwell, Halloweentown (1998)
If you grew up in the late 1990s, it's likely you'll remember Reynolds for her role in the classic Disney movie Halloweentown, in which she plays a witch who wants to introduce her grandchildren to the world of magic. The film included many quips from Reynolds, including one that still endears her to a generation: "Being normal is vastly overrated."