'Will & Grace' cast mourns Debbie Reynolds on Twitter with emotional messages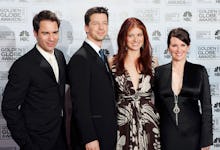 Debbie Reynolds died on Wednesday at the age of 84. The Hollywood icon had a stroke just one day after the death of her daughter, Carrie Fisher.
Former Will & Grace stars Debra Messing, Eric McCormack and Sean Hayes have taken to social media to mourn the loss of Reynolds, who portrayed Grace's mother, Bobbi Adler. Reynolds was on the show for all eight seasons.
A grieving Messing, who played Reynolds' daughter on the hit series, posted an Instagram photo of herself with the late actress, along with the moving caption: 
Hayes responded to the news of Fisher's and Reynolds' passing on Twitter with a heartwarming photo of himself and his former costar. "I overwhelmingly adored and admired them both," he wrote.
McCormack expressed his shock on Twitter, remarking that the loss of both Fisher and Reynolds "is too much."
Reynolds died hours after being rushed to the hospital for reportedly having a stroke. Reynolds' son, Todd Fisher, later confirmed her death, telling CNN on Wednesday, "She spoke to me this morning and said she missed Carrie. She's with Carrie now."