Debbie Reynolds movies on Netflix, Hulu and Amazon Prime: 'Mother,' 'Rat Race' and more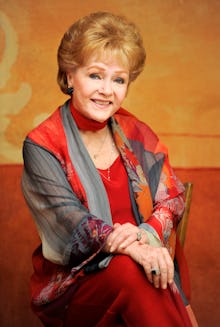 Movie fans all over the world and the entertainment industry are mourning the death of legendary actress Debbie Reynolds, who died Wednesday after suffering from a stroke. The 84-year-old and her family were already planning the funeral of her daughter Carrie Fisher, who died Tuesday after having a heart attack. 
Reynolds was widely known for her iconic performance in Singing in the Rain and to younger generations for Halloweentown. She acted, danced and lent her voice to over 80 performances on film and television during a career that spanned more than 60 years. To remember her life and legacy, here are a list of Debbie Reynolds films that can be streamed via Netflix, Amazon Prime, Hulu and rented instantly via Amazon Video. 
(Editor's note: Movies listed under Amazon Prime are available for unlimited streaming for subscribers. Movies available under Amazon Video are available for streaming with a rental fee.)
Netflix 
Mother (1996) 
Amazon Prime
Mr. Imperium (1951)
The Rat Race (1960)
Intimate Portraits - Debbie Reynolds and Carrie Fisher (1998)
Amazon Video
Singin' in the Rain (1952)
Susan Slept Here (1954)
Hit the Deck (1955)
The Tender Trap (1955)
The Gazebo (1959)
The Second Time Around (1961)
My Six Loves (1963)
Goodbye Charlie (1964)
The Unsinkable Molly Brown (1964)
The Singing Nun (1966)
These Old Broads (2001)
Hulu
Saturday Night Live: Season 21, Episode 1 — "Leg Up"  (1995)
Rugrats In Paris: The Movie (2000) *With Showtime add-on