Syrian government says it has reached a ceasefire agreement with rebels and Turkey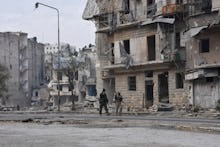 The Syrian government announced officials had reached a ceasefire agreement with rebels and Turkey on Thursday, marking the second time this month the government has moved toward peace in the nearly six-year-long civil war.
A U.N.-brokered attempt to evacuate civilians from Aleppo earlier this month didn't go as planned after aid convoys were set ablaze. The Syrian state media attributed the fires to rebels.
According to the New York Times, this latest ceasefire — which is also backed by Russia, Syria's greatest ally — includes seven rebel groups in its agreement, but pointedly leaves out the Islamic State, Al Qaeda and any groups affiliated with them. How they will decide what defines affiliation remains unclear.
In a statement reported on by the Times, the Syrian Army officials said Thursday's ceasefire was a product of "the victories and successes that our armed forces accomplished in more than one place," alluding to, at least in part, when Aleppo fell to Syrian President Bashar al-Assad's troops on Dec. 13.
Assad's victory in Aleppo spelled disaster for those who remained in the city, like activist Lina al-Shami, who dispatched what she said may be her last message at the time.
"More than 50,000 of civilians who rebelled against the dictator al-Assad are threatened with field executions, or dying under bombing," she said in a video. "According to activists, more than 180 people have been field executed in the areas that [the] regime have recently took control of, by Assad gangs and the militias that support them."
According to the Times, Thursday's agreement comes in three parts: "the cease-fire itself; an agreement detailing how it would be carried out; and a third expressing readiness to begin peace talks for a settlement to the conflict."
Russian President Vladimir Putin said the peace talks are slated to take place in Kazakhstan, though he reportedly didn't specify a date. Russia claims to have other safeguards in place to ensure the ceasefire takes hold, including a "hotline" to increase ease of communication between Russia and Turkey's military forces.
Russian foreign minister Sergey V. Lavrov told the Times that following President-elect Donald Trump's inauguration, the United States would be welcome to have a role in such negotiations. Trump, who has called for "extreme vetting" of refugees emigrating from countries with links to terrorism, promised "safe zones" for Syrian civilians at a rally earlier this month. 
"I would hope that, after the Donald Trump administration takes office, it will also be able to join these efforts," Lavrov said.