The Life of Kanye West: Breaking down his 2016 meltdown and looking forward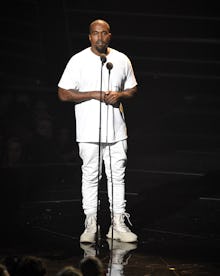 Bring up the name Kanye West and there will be varying reactions to the internationally celebrated rapper, designer and producer. West's unapologetic outspokenness makes his public persona one of the most polarizing in popular culture. Throughout his career, though, he's also been loved for what he calls his "realness."
From the outset, West has been transparent about his personal battles, putting his pain from a car accident in 2002 on his debut single "Through the Wire" and healing from the loss of his mother in 2007 by performing "Hey Mama," from his 2005 Late Registration album. In recent years, he's increased his shock value during interviews and award shows, where he makes extended addresses about changing the world through his art — his "you ain't got the answers Sway" in 2013 is one of his most infamous.
His expressive viewpoints birthed a nostalgic sentiment among some fans who missed the "old Kanye." On "I Love Kanye" he mocked this public perception of this change. "I hate the new Kanye, the bad mood Kanye/ The always rude Kanye, spaz in the news Kanye," he raps on the Life of Pablo track.
In 2016, West's public messages became more than just a passionate plea for authentic music, culture, art and fashion. His most controversial year yet eventually cascaded into a public meltdown in November, when he sought medical attention for his mental health.
From Nov. 21 to Nov. 30, West was hospitalized at the Ronald Reagan UCLA Medical Center for stress and exhaustion and placed on psychiatric hold, the Associated Press reported.  
West was dealing with a lot prior to his hospitalization. In October, his wife Kim Kardashian West was held at gunpoint and robbed in Paris. It is hard to fathom how not being able to protect his wife — even in his own position of power — could have impacted West and caused him stress, said Dr. Cendrine Robinson-Head in an interview. The researcher and psychologist has used hip-hop as a form of therapy in her work.
"I think him going and seeking out help is a perfectly natural, normal and healthy thing to do," Dr. Robinson-Head continued. "And to me it didn't as much signal crisis as it did to everyone else. Because it means that he or those around him recognize that he needs help which is a good thing."
With the whirlwind that was West's 2016, it's worth reexamining the critical moments that led up to this tensive point when his well-being was under scrutiny.
Twitter & Soundbite Controversy
West kicked off a tumultuous 2016 with rumors swirling about his album title, which he changed several times from Swish to Waves and, finally, to The Life of Pablo. In an interview with radio host Big Boy, he described it as "a gospel album with a whole lot of cursing on it." West's return to music three years after releasing his album Yeezus was enough news in itself. But what really caught the attention of the media was his misogynistic rant against his ex-girlfriend Amber Rose, her ex-husband, rapper Wiz Khalifa, and their son. Later, the beef was laid to rest after West realized the attack on them was unwarranted.
Going into February, he continued to tweet randomness: defending Bill Cosby, revealing that he was $53 million in debt and demanding Mark Zuckerberg invest in his ideas. None of this, though, was too far off from the grandiose, controversial, deeply personal, impulsive and sometimes endearingly bizarre comments West had made in the past.
Yet more eyebrows were raised about his emotional state after a tape of him lashing out at Saturday Night Live crew surfaced. "Look at that shit, they took my fucking stage offa SNL without asking me," West can be heard saying. "Now I'm bummed. That and Taylor Swift's fake ass."
West and Swift were at odds over a line in his single "Famous," in which he rapped, "I feel like me and Taylor might still have sex/ Why? I made that bitch famous." Swift said she never gave him permission to use the line, while months later Kardashian West produced a recording of the singer apparently approving it.
Creative Pressure
West entered the year under a lot of pressure to bring freshness to hip-hop with his follow-up to Yeezus. And, after his clothing line Yeezy was panned, he also had something to prove in the fashion arena.
So West mashed up his challenges. He combined an album release party and fashion show for Yeezy Season 3. He brought together the high fashion and hip-hop worlds at Madison Square Garden, with celebrities including Anna Wintour, Jay Z, and the Kardashian family, among others, peppering the packed house.
It didn't all work out. Months later, the Yeezy Season 4 fall fashion show faced criticism over the casting call for "multi-racial women only." Some felt the wording choice would exclude darker-skinned black women, which Kanye denied was the case in an interview with Vogue. Those critiques were calmed on show day when black women of all shades filled the runway. But the line itself still received bad reviews from fashion writers. 
Musically, though, he had better luck. The Life of Pablo climbed to No. 1 on the Billboard charts, received generally favorable reviews from critics and later garnered eight Grammy nominations. 
Saint Pablo Tour Controversy
In August, West kicked off his Saint Pablo tour. The drama ran high. During a performance at the Meadows music festival at New York's Citi Field, he cut his show short after hearing his wife had been robbed at gunpoint in Paris.
Later in October, West used the stage as a platform to call out friends. He unleashed on Jay Z in Seattle, telling the audience, "Our kids ain't never even played together."
The following month, just after the presidential election, West made a show of support for Donald Trump. At a show in San Jose, he even told black people to "stop focusing on racism."  A few days later, he call out Beyoncé, Jay Z and Hillary Clinton at his Sacramento show and walked offstage — outraging fans.
The following day, news broke that West was hospitalized. He cancelled his remaining tour dates. Fans on Twitter offered support through the hashtag #PrayforKanye. Amid the ups and downs, the Wests faced divorce rumors.
After leaving the medical facility sporting a new blonde fade, West flew to New York City to meet with a psychiatrist. While in the Big Apple, he met with Trump to discuss "multicultural issues," a story so perplexing to some it overshadowed important new stories from that same day.  
Despite the major changes in his public persona, West will still find supporting fans in his corner. 
"Kanye West is one of those artists who has had a lot of Stans since College Dropout," said Michell Clark, the founder of Artistic Manifesto, a music site for the "eclectic, selective hip-hop lover." "Over a decade later, a lot of people are still ride or die Kanye West fans because of how much of an emotional impact he had with those first few albums."
And former enthusiasts continue to be disenchanted by the outbursts, Twitter rants and behaviors the rapper displayed this year, Clark continued. "They're seeing that Kanye West is not who he was a decade ago."
#KanyeWest2020 and beyond 
Whether you're a fan, former fan or super critical of him, it was hard to tell what was happening with West over the past 12 months. The future looks to be just as unpredictable. West's 2016 leaves us wondering what he will say or do with his platform next. There are already teases of a possible presidential campaign.
One thing is certain: 2016 definitely brought the "new Kanye" — "the bad mood Kanye/ The always rude Kanye, spaz in the news Kanye" — further into visibility. The question is: Can we accept him for who he has become?