Debbie Reynolds preserved some of the most iconic Hollywood costumes of all time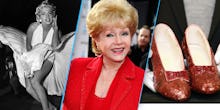 On Wednesday evening, news broke that actress Debbie Reynolds had died at age 84 after having a stroke, just one day after her daughter, Carrie Fisher, died. 
Immediately, people remembered Fisher as the girl in the yellow rain slicker alongside Gene Kelly in Dancing in the Rain; as one part of old Hollywood's most infamous love triangles; and, for the younger generations, as the endearing grandmother in the Disney original movie Halloweentown. 
But perhaps one of her most lasting — and important — legacies now is that Reynolds was the self-appointed hero for Hollywood's most iconic costumes, preserving items like Judy Garland's ruby red slippers and outfit from the Wizard of Oz and Marilyn Monroe's white halter dress from the Seven-Year Itch.
For decades, Reynolds collected some of the most precious items from film and stored them in her home. So you have her to thank for saving Audrey Hepburn's white lace dress from My Fair Lady.
And one of Charlie Chaplin's signature bowler hats. 
And Julie Andrews' outfit from the Sound of Music.
And Gene Kelly's suit from 1952's Singin' in the Rain.
"My lifetime dream has been to assemble and preserve the history of the Hollywood film industry," Reynolds told the Las Vegan Sun in 2011. "Hollywood has been an enormous part of my life, as I know it has been for countless fans all over the world."
Her collection included garments worn by Rudolph Valentino, Greta Garbo, Bette Davis, Julie Andrews, Marlon Brando, Barbra Streisand and more.
In total, there were more than 3,500 costumes, 20,000 photographs, thousands of movie posters, costume sketches and hundreds of props. 
According to the Wall Street Journal, Reynolds fought hard to save each of the costumes, wading through hundreds of thousands of items, for years. 
"Years before Universal turned its studio tour into a major theme park, Reynolds had the idea to build a Disney-type mecca for film fans out of MGM's back lot," the paper reported. "She offered $5 million for everything: costumes, scripts, props, music. But MGM sold everything to an auctioneer for about the same price, without allowing Reynolds to counteroffer. So every day for three weeks, she waded through more than 300,000 items. She ended up purchasing a large, but carefully selected, array of costumes and furniture. Over the ensuing years, she added items through smaller auctions and individual purchases." 
But in 2011, the collection went up for auction, with Reynolds telling WSJ that selling the items was "the hardest thing I have ever done."
"Costumes carry the energy of the actors who wore them; they are infused with the power of the stars and stories that inspired and empowered us," her daughter, Fisher, told the WSJ at the time. 
So not only do we have Reynolds to thank for giving masterful and iconic performances in Hollywood classics, but for having the mind to save and preserve costumes from the most iconic moments in film history as well.