Sikh, Muslim police officers in New York City will now be able to wear turbans, beards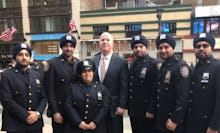 On Wednesday, New York City police commissioner James P. O'Neill announced a revision to the NYPD's policy allowing Sikhs to wear turbans and beards as a part of their uniform. The policy revision is an attempted effort to promote diversity and inclusion within the law enforcement agency, DNAinfo reports.
The new policy will provide religious accommodations for uniforms and allow beards to grow up to one-half inch, the New York Times reports. Religious head coverings are also permissible to wear in uniform as long as hair is neatly and tightly pulled back under the fabric. Turbans must also have a hat shield of the NYPD seal. For these religious accommodations, officers would first have to seek approval from the Equal Employment Opportunity Office.
"We're making this change to make sure that we allow everybody in New York City that wants to apply and have the opportunity to work for the greatest police department in the nation," O'Neill said while giving remarks following a police academy graduation at Madison Square Garden, DNAinfo reports.
The policy revision on beards was prompted when a Muslim police officer filed a federal class-action lawsuit in June prompting an internal investigation into the NYPD's beard guidelines. As Mic reported, Masood Syed, a 10-year veteran officer, was suspended after refusing to shave his beard. The NYPD previously prohibited beards, and then only allowed beards to grow up to the one-millimeter length as an exception for officers who received medical or religious accommodations. That case, the New York Times reports, is still pending.
The Sikh Coalition, a community-based Sikh civil rights organization, said without seeing a written policy, it's hard to measure the merits of these revisions.
"If the NYPD's new policy indeed allows for Sikhs to maintain unshorn beards and turbans, that sends a powerful message to the rest of America that Sikhs are an important part of our nation's fabric," Harsimran Kaur, Sikh Coalition's legal director, told Mic in an email. 
According to the New York Times, the Muslim Officers Society and the Sikh Officers Association have been collaborating to push the NYPD to revise their turban and beard guidelines.
O'Neill's announcement was a message of relief to the 33 Muslim and two Sikh police academy graduates at the ceremony. Sikh Officers Association — which includes about 150 NYPD officers — expects to see an increase of Sikh community members applying to become a part of the police force in the upcoming year, the Times reports.
Officer Gurvinder Singh, president of the Sikh Officers Association, told Mic this new turban and beard policy is a proud moment for the community. While the NYPD did take longer to alter its turban policy than the U.S. Army, Singh believes the changes are "better late than never."
"Sikhs in America have served in the U.S. military since World War I and are currently serving for the U.S. Army today," Singh said in a phone interview. "Now to be able to wear the turban while representing the best police department in the country — and to serve the best city in the world — is not only a proud moment for Sikhs, but it's also a proud moment for the city of New York."
Dec. 29, 2016, 12:55 p.m.: This story has been updated.