Uber driver reportedly stranded a woman at a gas station on her way home from the hospital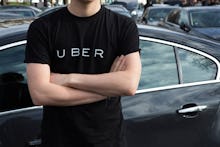 An Uber passenger from Arizona claims to have had a less-than-pleasant experience with the ride-sharing company on Christmas Day. Holly Tennant embarked on a 150-mile journey home after being released from the hospital and was allegedly abandoned by her Uber driver in the middle of the trip, Las Vegas station KSNV reports.
Tennant told the station that she hailed an Uber after her release from Sunrise Hospital & Medical Center in Las Vegas. Her husband was unable to pick her up, as he was home taking care of their son and Tennant's 94-year-old mother. "Just seemed like the logical thing," she told KSNV. "I could lay down and someone else would drive."
After falling asleep in the Dodge truck during the first half of the journey, Tennant says she woke up at a Chevron gas station in Palm Gardens, Nevada, and was given an ultimatum by her driver: She would have to get out of the car or go back to Las Vegas. "He said, 'I am not going to take you further. If my phone doesn't work, I am not getting paid,'" she said.
Tennant, who lives in Lake Havasu, says she was taken to the Las Vegas hospital by ambulance after suffering from complications from the several surgeries she had in the weeks prior. She went to the hospital located 150 miles away because it was the only facility that could accommodate her during the holidays.
After being ditched by her driver 75 miles away from home, Tennant cancelled the trip so that she would only have to pay for the part of the service she received.
Tennant says she was unable to book another ride through Uber because she did not have cell phone service, but she was able to get help from a gas station employee. Her husband picked her up a few hours later.
Uber told KSNV that both the driver and the passenger agree upon the distance and location of a trip. "Drivers who accept your trip requests are expected to bring you to your preferred destination," reads Uber's website. "If your driver for this trip refused your destination or did not bring you there safely and comfortably, please let us know what happened."
"We are saddened to have learned the details described about this rider's experience as she attempted to travel home to be with her family for the holidays," said Uber in a statement to Mic. "Riders who use Uber expect reliable, high quality service from their drivers. We're disappointed when an experience does not meet that standard."
The complaint made by Tennant has since been resolved — Uber told Mic that they have been in contact with the driver and his access to the app has been removed.
Dec. 30, 2016, 10:40 a.m.: This story has been updated.