'Super Mario Run' Android Release Date: Google Play page launches with pre-registrations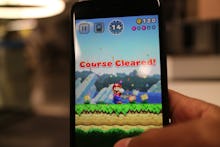 It seems the Super Mario Run Android release date is that much closer. Nintendo and Google recently launched an official Google Play Store page for the game. 
That means it probably won't be long before Super Mario Run is no longer an iOS exclusive and will eventually come to Android. It also means you can ignore all those Android Super Mario Run knock-offs currently flooding Google Play.
Super Mario Run Android Release Date: Where to download the app from Google Play
If you're interested in downloading Super Mario Run on Android right when it's released, you'll want to bookmark this Google Play Store page. As with other apps in Google's mobile store, Super Mario Run shows screenshots and other info regarding what to expect. That includes official confirmation that you'll need an internet connection to play this version of the game too.
The new Google Play Store page also offers the option to "Pre-register" and receive an alert when the game is released. According to Google, users will receive a notification when the game finally drops. Should you change your mind, you can always head back to the Super Mario Run page and unregister.
More Super Mario Run tips, tricks and updates
If you want to know more about Super Mario Run, walk calmly toward Mic's latest coverage, like our review of the demo, an explanation for why the game isn't free, an advisory about how much data Super Mario Run will really use and a list of Android games to play while you await its Android release.