Lee Daniels on #OscarsSoWhite: "Are we really in this for the awards?"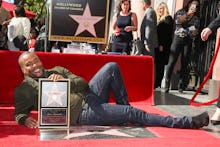 Lee Daniels is not a fan of #OscarsSoWhite. 
The Oscar-nominated director and producer of TV mega hit Empire, sat down with the New York Times to discuss his new musically-themed TV show, Star. The drama depicts the struggles of a nascent Atlanta-based R&B girl group, but also deals with a melange of social issues, like trans rights and the Black Lives Matter movement. Earlier in December, Daniels said that he cast a white woman in the lead role because he felt the country "needed to heal" and wanted to cast a white girl who was so fabulous that both white and black audiences would embrace her. 
In the Times story, Daniels was also asked about the #OscarsSoWhite movement, a campaign that promotes a diversity of voices in the end-of-year awards consideration process. According to the Times, Daniels was "sent into a fit of frustration" about the hashtag movement. 
"Go out and do the work," Daniels told the Times. "Oscars so white! So what? Do your work. Let your legacy speak and stop complaining, man. Are we really in this for the awards?" 
In an interview with Mic in response to Daniels' comments, April Reign, creator of #OscarsSoWhite, clarified the meaning of the movement. 
"#OscarsSoWhite is not about a statue but the lack of opportunities for those from marginalized communities," she said. "The underlying issue begins on the writer's page and permeates the process through the distribution of the finished product."
As Mic has previously reported, Hollywood has a staggering diversity problem. Talent of color often have trouble getting the opportunities that come more readily to white talent. #OscarsSoWhite began in January 2015 in reaction to the abundance of white talent — and very little talent of color — nominated at the 2015 Academy Awards. Daniels called people behind the movement "whiny."
"If I had thought that way — that the world was against me — I wouldn't be here now," he said. "These whiny people that think we're owed something are incomprehensible and reprehensible to me. I don't expect acknowledgment or acceptance from white America. I'm going to be me." 
However, Reign said that the movement is much more about the ability for people from "underrepresented communities to show the diversity, beauty, and complexity of their experiences on stage, TV, and film." 
"As a black, gay man, Mr. Daniels surely understands this and I appreciate his efforts to open the door wide and provide opportunities for others in the LGBTQIA community and communities of color," she said.