'Halloweentown' cast members share sweet memories, old photos after Debbie Reynolds' death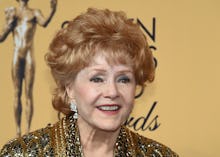 Debbie Reynolds was a Hollywood legend known for her roles throughout the 1950s and 1960s. However, a younger generation knows the famous actress from her time as Aggie Cromwell in Disney Channel's Halloweentown franchise.
Following Reynolds' death on Wednesday, cast members Judith Hoag and Kimberly J. Brown took to social media to share memories and mourn their former co-star.
Brown, who played Aggie's granddaughter, Marnie, shared a short note on Twitter before directing her followers to her Facebook page for a longer message about Reynolds.
"What do you say about a woman who had such an impact on your life both professionally and personally?" Brown wrote on Facebook. "Debbie lived her life like all of us should, to the fullest. She was bold, funny and had the biggest heart. Her sparkly smile warmed every room she was in, and her jokes about her amazing career and life would make your stomach hurt with laughter."
Hoag, who portrayed Reynolds' on-screen daughter, Gwen, also took to Twitter to say goodbye. 
Reynolds first portrayed witch Aggie Cromwell in the 1998 TV movie, and reprised her role for the three sequels — Halloweentown II: Kalabar's Revenge (2001), Halloweentown High (2004) and Return to Halloweentown (2006).
In a 2011 interview with Oct31st.org, Hoag told the outlet that Reynolds actually introduced herself as "Princess Leia's mother" on the first day of filming. 
"She's a living legend!" Hoag added. "She's self-deprecating and charming and hilarious and filled to the brim with juicy stories."
Reynolds died at age 84, just one day after the death of her daughter, Star Wars actress Carrie Fisher.