These Trump inauguration cartoons perfectly capture this year's political absurdities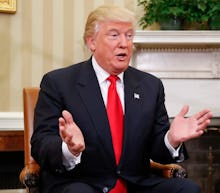 As we edge closer to President-elect Donald Trump's inauguration on Jan. 20, many Americans have taken note of the various absurdities this year's election left us with. Perhaps nowhere are these feeling better exemplified than within publications' editorial pages — and the political cartoons that accompany them. 
Here are some of the best political cartoons about Inauguration Day. 
Signe Wilkinson, Philly.com
This cartoon by Signe Wilkinson plays on one of the more absurd controversies that took place during this election year: Trump assuring the nation that he does, indeed, have "yuge" hands. But the wackiest thing about this cartoon? It was remarkably prescient, having been published in February of this year.
Linda Boileau, the State Journal
Trump has had some difficulty lining up performers for his inauguration. Cartoonist Linda Boileau summed up what the scene may look like for some of Trump's turn-downs: immediately dropping their phone call from Trump and walking away.
Steve Greenberg, the Association of American Editorial Cartoonists
Other cartoonists are lamenting Trump's possible ties to Vladimir Putin. His apparent adoration for the Russian president has been well-documented, and some, like cartoonist Steve Greenberg, are a bit worried. 
Paul Noth, the New Yorker
Paul Noth's cartoons in the New Yorker are renowned, so of course he had to weigh in on what a Donald Trump inauguration might look like. This is his take, with Trump assuring us he has "terrific ability, by the way."