How many chapters in 'Final Fantasy 15'? Full list, tips and a quick guide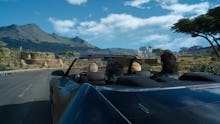 Playing through Final Fantasy 15 successfully takes a delicate balance of completing main storyline missions while also chipping away at its large collection of side quests. 
Should you charge on ahead through the main chapters, or keep hunting frogs and exploring dungeons? Unless you know exactly how many chapters to expect, making those decisions can be tough. There's also quite a bit of content in Final Fantasy 15 that you can't access until after you complete all the main chapters. 
Here's everything you need to know.
Final Fantasy 15 full chapter list
Here's a full rundown of the chapters in Final Fantasy 15 (via IGN):
Chapter 1: Departure
Chapter 2: No Turning Back
Chapter 3: The Open World
Chapter 4: Living Legend
Chapter 5: Dark Clouds
Chapter 6: A Way Forward
Chapter 7: Party of Three
Chapter 8: Seaworthy
Note: After Chapter 8, the main story becomes more linear and restrictive until you complete the rest of the campaign. However, starting at Chapter 10, you can talk to Umbra at rest points to return to the open world if you need a break from the main story.
Chapter 9: Callings
Chapter 10: The Heart of a King
Chapter 11: In the Dark
Chapter 12: End of Days
Chapter 13: Redemption
Chapter 14: Homecoming
Chapter 15: Ending and Post-Game
How do you keep playing Final Fantasy 15 after beating it?
Once you beat the last chapter of Final Fantasy 15 and watch the credits roll, you'll be able to load up the most recent save from the main menu. This should plop you right at the end of Chapter 15, near a rest point where you can sleep and save. Enter this rest point, call Umbra and select the option that lets you return to the past. This will let you explore the entire open world, complete side quests, and access some additional missions that weren't available during your main playthrough.
More Final Fantasy 15 news, updates, tips and tricks from Mic:
Hungry for more Final Fantasy 15 coverage? Here's a roundup of the most mouthwatering food from Final Fantasy 15, a big list of tips and tricks a guide to finding all the royal arms, a guide to fishing in Final Fantasy 15, a guide to changing your chocobo's color, a guide to finding a Sturdy Helixhorn, a guide to summoning, a review roundup from all the big gaming outlets, rumors about a PC release and Conan O'Brien's reaction to the game on his show.