'La La Land' is going to win best picture at the Oscars. Here's why it shouldn't.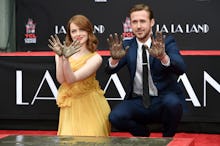 Let's get this out of the way: The La La Land backlash is out of proportion. There are plenty of fair criticisms of Damien Chazelle's movie musical, from its representation issues to how misguided the movie is until its last 20 minutes. But La La Land is ultimately kind of a trifle of a film — albeit one that has been called a "masterpiece" one too many times — and isn't worth the energy.
That said, La La Land is on a likely unstoppable course toward winning best picture at the Oscars. It will probably beat out some much better movies to do so, like Moonlight and Fences. This isn't new; there have been plenty of not-quite-best picture winners in the academy's past. (Remember Argo?)
But let's play ball for a second. This isn't like any other year in Oscars history — it's the year when the academy needs to break the vicious #OscarsSoWhite cycle. Though a third year of all-white nominees is practically an impossibility at this point, there will still be major (deserved) scrutiny of this year's awards. For that reason, La La Land isn't the right best picture for right now.
There are two ways of looking at best picture: as the objective best, or as a de facto "picture of the year" award. The former is a tricky proposition, as any evaluation of quality when considering such high-caliber films would almost certainly become a battle of taste, thus making it subjective and failing the definition.
To a fan, La La Land's flaws are minimal and washed out by the overwhelming power of it. To a non-fan, however, problems abound. The disastrous sound mixing ruins opening number "Another Day of Sun." The songs are lyrically weak (outside of the astonishing "Audition"). Ryan Gosling is turning in the same paint-by-numbers performance he gave in Crazy Stupid Love. Director-writer Chazelle has no interest in characters beyond his leads, to the film's demerit. No amount of whimsy can plug any of those holes.
You could try using a somewhat objective rubric, like Rotten Tomatoes scores, but La La Land has the lowest score of the most likely best picture nominees. There's no argument to be made that La La Land is the clear, qualitative "best."
So let's focus on the second definition: choosing the picture that best represents the year. The Academy has been hit-or-miss with this in the past. Spotlight turned out to be a great best picture winner earlier this year, foreshadowing journalism's new fight against power in retelling the story of the Boston Globe's reporting on sexual abuse in the Catholic Church. Birdman the year before? Not so much, considering the academy ignored vital film Selma in the process.
Choosing La La Land would be more of a Birdman move than a Spotlight one. There's an argument to be made for the musical's merits as a form of escapism, but that undersells the power of what film can be quite a bit. 
There are plenty of films likely to be nominated for best picture this year (Moonlight, Fences, Hidden Figures and more) that have purpose beyond escape; they have something to say not just about themselves, or about film, but about the world. They're grounded in today, whereas La La Land can't stop dreaming about the past. Moreover, the way the film handles jazz — making John Legend the agent of change trying to ruin it and Ryan Gosling the white knight to save the genre's integrity — is deeply retrograde.
La La Land is the wrong choice for this year, not against competition like Moonlight. A win for it would be a signal that, no matter how many performers or creators of color are nominated, they can't beat attractive white people in a movie about movies. #OscarsSoWhite will reign.
We've got two months until the Oscars actually happen. The backlash against La La Land is going to ebb and flow. There will be good arguments both for and against it, as well as bad arguments both ways. Perhaps some point against it will stick, or Moonlight will gain ground at the Golden Globes and/or SAG Awards. The race certainly isn't decided yet.
But La La Land's win, should it happen, will have repercussions beyond February 2017. This slight, fun film will have been elevated above its more vital competitors in a contest that's under great scrutiny. The La La Land backlash may be outsized now, but if the film dominates the Oscars, said backlash will only be the tip of the iceberg.