Simone Biles has no time for your body shaming — she's got records to break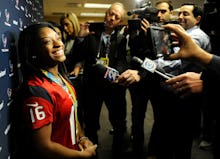 Simone Biles left the 2016 Rio Olympics with five Olympic medals, four of them gold. At just 19, she's already created a signature gymnastics move — "the Biles." She's appeared on the cover of Teen Vogue. President Barack Obama made a point to congratulate her during the Olympics. And the Associated Press just named her its female athlete of the year. 
Yet even with all those accomplishments and accolades, Biles is still having to deal with body-shaming trolls. 
The most recent example occurred just this week, after Biles posted an Instagram of herself wearing a white halter top and dark shorts, smiling broadly. 
As Teen Vogue reported, the trolling began almost immediately. "Ur so ugly Simone Biles even I look better than u," one commenter eloquently wrote. Another: "She ugly." 
But rather than let it slide, Biles sent a tweet to her haters. 
"You can judge my body all you want, but at the end of the day it's MY body," Biles wrote. "I love it & I'm comfortable in my skin." 
This is, of course, not her first time being body shamed. In a November interview with People, she revealed a male coach had called her "fat" back in 2013. But again, rather than letting the insult bother her, she chose to see the incident as something to motivate her to love her body even more. 
"It was really hard, because growing up I never felt overweight or fat, so it shocked me like, 'Why would he say that?'" Biles told People. "But in a way it actually shaped me for the better, because it just taught me to rise above and to love my body no matter what. Nobody could tell me what to do."
During the Olympics in August, after she and two of her fellow U.S. gymnastics teammates — Aly Raisman and Madison Kocian — posted a picture of themselves donning bikinis on the beach, abs out and proud, some bro took to Twitter to ask: "Y'all find this attractive?"
That time, rather than Biles having to stick up for herself, the internet did it for her, answering this guy with a unanimous "Please do shut up." 
So, although it may be crushing to know a woman as accomplished as Biles cannot escape trolls commenting on her physical appearance, at least she is self-assured enough to not only proudly stand up for herself — but stand up for anyone else who may be dealing with body-shaming, too. 
Now, if everyone would just leave her alone, she'll get back to breaking even more records.