Chick-fil-A is being sued for alleged bias against job applicant with autism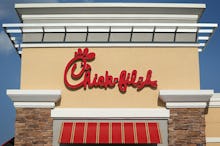 Chick-fil-A has sparked some controversy over its hiring practices. An Illinois man named James Kwon says he was denied a job at the chain because he has autism, Courthouse News reported. 
According to the lawsuit, Kwon performed a work-study program at another restaurant where he was praised by a supervisor and later worked with a job coach to prepare to apply for a position at Chick-fil-A in 2014. 
"The branch manager responded that Chick-fil-A was not interested in hiring people with disabilities," the lawsuit noted, explaining that Kwon did not have the opportunity to complete a formal application to Chick-fil-A.  "When the job coach reiterated that she thought James would do a good job, the branch manager stated that people with disabilities would not be able to succeed at Chick-fil-A."
If the allegations are true, Chick-fil-A has violated the American Disabilities Act, which prohibits businesses from discriminating against individuals with disabilities. 
Kevin Bulmann, owner and pperator of Orland Park Chick-fil-A providing Mic with the following statement in an email: 
"Chick-fil-A at Orland Park is aware of Mr. Kwon's lawsuit and strenuously denies violating any laws.  Our restaurant does not discriminate against qualified individuals with disabilities. The United States Equal Employment Opportunity Commission investigated Mr. Kwon's allegations and did not find cause to believe that discrimination occurred."
Employing people with disabilities 
Over 3.5 million Americans are on the autism spectrum, according to the Centers for Disease Control and Prevention.  And prevalence of autism has spiked — from 2000 to 2010, autism increased 119% in U.S. children. When they grow up, they need to be considered by potential employers. The Arc,  a national organization of and for people with intellectual and related developmental disabilities, noted that many people with developmental disabilities (like autism) are unemployed or underemployed, meaning they have the capacity to work beyond low skill jobs. 
"We don't have a choice of turning away — we have to employ these people," Ann Cameron Williams, chief research and innovations officer with The Arc, told CNN, explaining that the workforce cannot ignore the growing population of adults with autism. 
There's progress to be made, but good examples are being set. Other food chains have taken the lead in employing people with disabilities. Starbucks, for example, was recognized as a "best place to work" by the Disability Equality Index survey in 2016. 
Other companies including Walgreens, Microsoft and Freddie Mac are leading the charge to foster inclusive workplaces for people with disabilities, Huffington Post reported. Strategies to promote inclusiveness and job readiness include paid internship programs and even conducting trainings in mock stores.