Israeli Settlements Explained: Legal issues, map and why the UN condemns them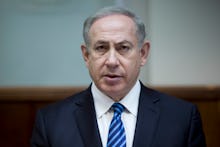 The United Nations Security Council unanimously passed a resolution on Dec. 23, which condemned building Israeli settlements in Palestinian territory, saying that doing so "constitutes a flagrant violation under international law and a major obstacle to the achievement of the two-State solution."
The United States abstained from the vote, and Secretary of State John Kerry on Wednesday said vetoing the resolution "would have been giving license to further, unfettered settlement construction that we fundamentally oppose."
Samantha Power, the U.S. ambassador to the U.N., said that U.S. remains committed to Israel's security, but that "continued settlement building seriously undermines Israel's security" and the possibility of a two-state solution.
Israel Prime Minister Benjamin Netanyahu accused the Obama administration of masterminding the "unacceptable" resolution and said his country would not "turn the other cheek." Ron Dermer, Israel's ambassador to the U.S., described the resolution as the U.N. "ganging up on Israel" and called the U.S. abstention "a sad and shameful chapter in U.S.-Israeli relations."
President-elect Donald Trump called for the U.S. to veto the resolution. Later, on Twitter, he called the U.N. "So sad!" and wrote that "things will be different after Jan. 20th."
"Stay strong Israel," Trump tweeted. "January 20th is fast approaching!"
Netanyahu said Friday that he hopes Trump will work "to negate the harmful effects of this absurd resolution." 
So what is the U.N. resolution?
Israel has continued to build in areas along the West Bank and East Jerusalem that it annexed during the Six Day War in 1967. At least 125 such settlements are authorized by the Israeli government, and about 100 more that are unauthorized but still restricted or inaccessible to Palestinians, according to NBC News. 
The U.N. resolution condemns Israeli settlement activity in Palestinian areas as an illegal impediment to a two-state solution.
"Despite our best efforts over the years, the two-state solution is now in serious jeopardy... We cannot, in good conscience, do nothing, and say nothing, when we see the hope of peace slipping away," Kerry said in his remarks Wednesday.
"If the choice is one state, Israel can either be Jewish or democratic, it cannot be both, and it won't ever really be at peace," he said.
Israel, under the conservative Netanyahu administration, has pursued settlements, even as it has outwardly accepted the two-state solution.
Kerry also said that Netanyahu and others have begun to operate under a "with us or against us mentality," creating an environment in which anyone who disagrees with Israel on any issue is considered "anti-Israel or anti-Semitic."
Where are these settlements and are they legal?
The land in question here includes the West Bank and East Jerusalem. The land was "taken from the Palestinians, in breach of international humanitarian law," according to the Israeli human rights organization B'Teslem.
"The very existence of the settlements violates Palestinian human rights, including the right to property, equality, a decent standard of living and freedom of movement," B'Tselem said.
According to the U.N. resolution, "the establishment by Israel of settlements in the Palestinian territory occupied since 1967, including East Jerusalem, has no legal validity." The resolution also demands "that Israel immediately and completely cease all settlement activities in the occupied Palestinian territory."
The Geneva Convention of 1949, which forbids an occupying power from settling its people in conquered territory, forms part of the legal basis for the resolution. The New York Times noted in an editorial that the 1993 Oslo Accords determined that disputed territories "should be settled by negotiation — not by diktat by either side."
But many Israelis claim a historical and biblical connection to the land, and that the legal right to settlements in Palestine was established by the 1922 League of Nations Mandate for Palestine. Israel has pledged to build thousands of new homes in East Jerusalem in a further expansion of its settlements.
What does the Trump administration mean for the settlement issue?
Trump has promised that "things will be different" after he is in office. 
What exactly that means is not yet clear.
Trump has said that the Obama administration is treating Israel with "disdain," though U.N. ambassador Samantha Power noted in her post-resolution remarks that the administration has "repeatedly increased funding to support Israel's military" and "in September... signed a Memorandum of Understanding to provide $38 billion in security assistance to Israel over the next 10 years — the largest single pledge of military assistance in U.S. history to any country."
But Trump has been more explicit in his support for Israel, appointing his Israel adviser, Jason D. Greenblatt, as his special representative for international negotiations and David Friedman, a far-right opponent of Palestinian statehood, as his ambassador to Israel. He also has floated a plan to move the U.S. embassy from Tel Aviv to Jerusalem.
Before his election, the Trump campaign outlined an Israel policy that would allow the U.S. to provide unlimited "military, strategic and tactical" support to Israel, and indicated it would veto "any United Nations votes that unfairly single out Israel." The Trump team also vowed to cut funding to the UN Human Rights Council and suggested a two-state solution may be "impossible."
Dec. 29, 3:39 p.m.: This story has been updated.