When is 'Super Mario Run' coming to Android? Predicting the Google Play release date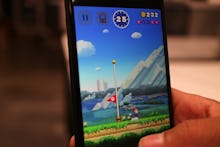 The Super Mario Run Android release date remains unknown but finally, the app is Google Play Store official. While we may not know the exact date when Android users will be able to indulge in some Nintendo mobile fun, there's a good chance the game is closer to an official release now that its page is up and pre-registrations are open. 
Still, the question remains: When will Super Mario Run be released on Android devices? There's still no official answer, but we may have a pretty good guess.
When is Super Mario Run coming to Android? What we know so far
Nintendo has chosen to keep a tight lid on details regarding the Super Mario Run Android release date. Mic has reached out to Nintendo for comment and will update with any response.
We may not know anything for sure until Google transforms that "pre-register" button on the Super Mario Run Android page to a "download" button. But looking to previous Apple exclusive releases may shed some light on what to expect from the Super Mario Run iOS exclusivity period.
When is Super Mario Run coming to Android? Our best guess
Apple worked closely with Nintendo to offer Super Mario Run capabilities that other apps simply can't offer. Along with promoting the game heavily in the App Store, Super Mario Run was also given a "Notify" option — allowing iOS users to receive a notification when the app was made available. That was the first time Apple had ever offered such an option.
This isn't Apple's first exclusive by a long shot. Apple Music has offered a number of exclusive mixtapes and albums, which tend to last about a week, or two before expanding to other platforms. Apple TV has also snagged exclusive channels like HBO Now, which didn't land on any other set top boxes for a full three months.
In the case of Super Mario Run, we could see the app falling somewhere in the middle. Now that Google's released the Play Store sign, the wait may not be much longer. After all, teasing Android users for three months would be plain cruel. A month of iOS exclusivity seems more reasonable.
Only time will tell, though. We won't know for sure until Nintendo or Google make an official announcement.
More Super Mario Run tips, tricks and updates
If you want to know more about Super Mario Run, walk calmly toward Mic's latest coverage, like our review of the demo, an explanation for why the game isn't free, an advisory about how much data Super Mario Run will really use and a list of Android games to play while you await its Android release.