The secret behind Debbie Reynolds' legendary 'Singin' in the Rain' scene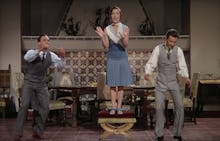 To hear Debbie Reynolds tell it, the man she acted opposite in her breakout film, Singin' in the Rain, would've preferred she not be there at all.
"Gene Kelly was a little tough and he used to yell at me on the set," Reynolds, who died Wednesday, told the Sunday Express in 2013. "When studio chief Louis B. Mayer told him I was going to be his leading lady, Gene stared at me and said, 'What have you done before?' I said, 'Nothing ... but I won the Miss Burbank beauty pageant!'"
Kelly took issue with the actress' near-total lack of dance experience — but, as she said, "I was going to be in the movie whether he liked it or not, and I had three months to learn to dance." So learn she did — and as outlets like Vox and Entertainment Weekly have noted, she overcame her lack of experience to become a star.
Reynolds is nothing short of a charm hurricane in the part of Kathy Selden, particularly in her big number "Good Morning." Though Reynolds didn't sing the part — as was common practice at the time, she was dubbed by singer Betty Noyes — she dances like mad, despite her lack of experience.
Getting that magic on film wasn't easy for Reynolds, though. Kelly was something of a "taskmaster," the late actress said, demanding repeated takes and expressing little sympathy for her pain.
"My feet were bleeding from all that dancing and when I pointed it out, Gene would say 'Clean it up!'" she recalled to the Express. "If I wasn't smiling, Gene would yell at me to smile more. During filming, I thought my cheeks were going to crack from all that smiling."
Reynolds felt the weight of Kelly's demands but found solace from an unlikely source: Fred Astaire, who even invited her to watch him rehearse.
It took blood, sweat and tears — but for Reynolds, the end result was an unmistakable success. As she told the Express, "It's a movie that makes you smile and forget your troubles."