Netflix New Year's Eve episodes 2016: 7 TV specials to watch online this year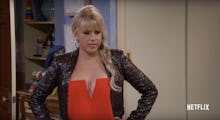 There are plenty of ways to welcome 2017 and bid farewell to the year that snatched David Bowie, Alan Rickman, Carrie Fisher and other beloved celebrities away from us. One option is to watch New Year's Eve episodes on Netflix.  Here are several New Year's Eve episodes to stream on Dec. 31 before making your champagne toast at midnight (or even now while you're waiting for the party to start).
Frasier: "RDWRER"
In season seven, episode 12, "RDWRER", Frasier regales Roz with the tale of his family's adventure on the Millennial New Year. Remember the freak-out about the year 2000? Frasier certainly does. He, his brother and father took a road trip in a Winnebago, which started out innocently enough. Then the men stop at a diner and things go horribly wrong in the hours before midnight.
Friends: "The One With All the Resolutions"
In Friends season five, episode 11, "The One With All the Resolutions", all of the friends make New Year's resolutions. Joey wants to learn how to play the guitar, while Rachel vows to quit gossiping. You can already see where this is headed, but the episode is still full of laughs. Another New Year's Eve option for Friends fans is  season six, episode 10, "The One with the Routine," which has the Geller siblings performing at Dick Clark's New Year's Rockin' Eve.
How I Met Your Mother: "The Limo"
In season one, episode 11, "The Limo", Ted rents a limo for some New Year's Eve party-hopping. He uses his Christmas bonus to do it and comes up with a whole plan about how he and the gang will celebrate — but things don't go as he hoped. 
The Office: "Ultimatum"
In season seven, episode 12, "Ultimatum", Michael is less than thrilled when Holly comes back from the holidays sans engagement ring and with her boyfriend still in tow. Pam, meanwhile, urges her co-workers to keep their resolutions for the new year. 
Louie: "New Year's Eve"
In Louie season three, episode 13, "New Year's Eve", Louie wrestles with what to get his daughter for Christmas. Louie thinks he will be spending the holidays alone in China, but then he runs into Liz. 
Mad Men: "The Good News"
Season four, episode three, "The Good News", has Don flying Los Angeles to see Anna prior to his New Year's vacation to Acapulco, Mexico. But she has bad news. Don ends up canceling his trip and flying back to New York. There, Lane has more bad news in store.
And for the little ones...
If you have small children in your charge on New Year's Eve, you can keep them entertained with any of these specials: Word Party, Puffin Rock, Luna Petunia, Beat Bugs, All Hail King Julien, Skylanders Academy, Trollhunters, Project Mc2, Chasing Cameron and Fuller House. 
These shows have a special early countdown so kids can ring in the new year before their bedtime, giving the grown-ups a couple extra hours to celebrate the end of 2016.