Trump renews pledge to "buy American" — so why is his own merchandise made overseas?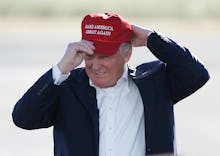 President-elect Donald Trump renewed his vows to "Make America Great Again" in an Instagram post Thursday morning, nailing down the "two simple rules" he says his administration will follow: "Buy American and hire American." 
These tenets resonate with Trump's campaign promise to crack down on illegal immigration, a pledge that crystallized around his calls to "build a wall." This message appealed to those who readily believed that Latino immigrants were bringing crime and drugs into the country and stealing American jobs. 
In Trump's plans for his first 100 days in office, he said he would immediately take action on "abuses of visa programs," claiming such abuses "undercut the American worker." According to the Wall Street Journal, Trump will likely focus on tightening restrictions on high-skilled worker visas, known as H-1B visas, which companies rely on to hire employees from countries like India and China.
"I will end forever the use of the H-1B as a cheap labor program, and institute an absolute requirement to hire American workers first for every visa and immigration program," Trump said in March. "No exceptions."
But is Trump playing by these rules when it comes to his own businesses?
The billionaire businessman sells Trump steaks, Trump ties, Trump fragrances, Trump polos. He has thousands of employees working at Trump Tower, over a dozen Trump hotels and 17 golf courses across the country and around the world, not to mention the rest of his family's holdings, like daughter Ivanka Trump's clothing and jewelry lines. 
In August, the Washington Post published a running list of every one of these products which are made overseas — which doesn't bode well for Trump's "two simple rules." Among them are Trump's shirts, made in China, Bangladesh, Honduras and Vietnam; Trump's eyeglasses, made in China; and Trump's home goods, made in Turkey, Germany, China, India and Slovenia. Trump's "Make America Great Again" hats remain one of the few items manufactured in the U.S.
Yet, according to the Post, Trump once demonstrated his dedication to keeping jobs in the U.S. by boycotting Oreos after he learned Nabisco moved some American factory jobs to Mexico. 
When it comes to "Buy American" and "Hire American," Trump's supporters will have to wait until Jan. 20 to see if Trump puts his money where his mouth is.