11 highly anticipated albums of 2017: Missy Elliott's return, Jay Z's 'Lemonade' response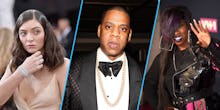 Music in 2016 was like a beautiful, glowing sunset spreading over a massive landfill that was the year's hard news. It provided hope in the face of the ever heaping piles of bodies and disappointments. As of now, it doesn't look like 2017 is going to be significantly more peaceful, and after a year of enjoying one life-sustaining work after another — Coloring Book, Lemonade, Blonde, A Seat at the Table — it may seem music in 2017 won't be able to match the woe.
However, don't think for a second that it can't. As the careful Mic reader may have observed, many of the highly anticipated albums once slated for 2016 never materialized, and therefore have a wide open 2017 to play with. Veterans like Missy Elliott and Zach de la Rocha have promised full returns, and some promising newcomers, such as Sampha, are set to lay the foundation of their careers. 
Here are 11 albums that are encouraging us to face the coming year with an open mind, and what we know about them thus far.
Missy Elliott
Release date: TBA
Songs so far: "Pep Rally," "WTF (Where They From)"
Why you should be psyched: For some reason, after Missy Elliott's 2006 album The Cookbook she got the strange idea we didn't want to hear any more music from her. The ecstatic celebration following her 2015 Super Bowl performance and the frenetically choreographed "WTF (Where They From)"  video changed that perception real quick. Thankfully, music fans should have a chance to atone for their sins and show Missy the love she's owed in 2017.
Missy has yet to set a date or name her new project, but by all accounts, it's going to be fire. Two of her mainstay producers, Pharrell and Timbaland, have been at the boards helping her summon her elastic, futuristic sound. Dancers of the world have already started preparing for Missy season to return, because once it starts the funk will be irresistible and inescapable.
Zack de la Rocha
Release date: TBA
Songs so far: "Digging for Windows"
Why you should be psyched: It's been rumored that Rage Against the Machine's former front man has been working on a solo project for close to a decade now. But he's always hesitated to pull the trigger, mired in a "I can't do this, it sounds too much like Rage/I can't do that, it doesn't sound enough like what they expect me to do," as Trent Reznor of Nine Inch Nails phrased it in 2011. 
We needed Rage in 2016, facing perhaps the most fascist-friendly, demagogic potential leader this country has ever seen. All we had to stand against him was a couple of half-baked 'down with the orange' anthems and an EP from the pithy Prophets of Rage cover band. But it seems De la Rocha has found his sound. He released his blistering, El-P assisted "Digging For Windows" to epic fanfare in September and promised more to come. The album will come just in time to drain the swamp drainers and burn it all down, in a good way.
Sampha, Process
Release date: February 3
Songs so far: "Timmy's Prayer," "Blood on Me"
Why you should be psyched: Sampha has been lingering on the fringes of the electronic and R&B worlds for some time now, piping in on disparate projects from SBTRKT and Drake, turning each song he's guested on into his own. In 2016, his will-o-wisp, lightly accented voice added such depth to Frank Ocean's Endless and Solange's A Seat at the Table. 
He's apparently learned a lot from working with all these names and will be putting it to the test on his upcoming Process. "It taught me I need to appreciate what I've got," he told Fader. "Like, appreciate difference." His urgent croons on his syncopated, driving single "Blood On Me" show already he's got a lot to share and the vision to deliver it in style.
Drake, More Life
Release date: TBA, likely to be a surprise
Songs so far: "Fake Love," "Sneakin'" feat. 21 Savage, "Two Birds, One Stone"
Why you should be psyched: In 2016, Drake finally achieved what he's long been struggling tooth and manicured nail for since his beginning: undeniable hip-hop super-stardom. Views was commercial triumph. It broke records left and right and made him the target of 'realer than thou' rappers the game over. But it left him looking a bit lost — the album said little that was new or different. Outside of remixing tracks of cutting edge MCs, is he generating new ideas of his own?
More Life, Drake's "playlist project" will hopefully start to answer these questions. Set to be a looser, less curated release than Views, the album will hopefully give a glimpse of Drake's creative, rather than commercial ambitions — exactly the side he needs to show right now to prove he's fit to wear the crown. Because 2016 proved there are youngin's gunning for it.
Grizzly Bear
Release date: TBA
Songs so far: None.
Why you should be psyched: Alongside the breakthrough R&B and hip-hop, 2016 saw a surprising resurgence of indie rock. Bands like Whitney and Car Seat Headrest, dusted off the edgy, folksy tenants of the once dominant genre on their brilliantly expressive projects. Because genres never die, they simply hibernate.
Next year, one of indie's unsung brightest, Grizzly Bear, will return to crystallize the movement with their first album in five years. In October, the band tweeted their album is "90% done" and this would be the "last update until you hear it." So, don't hold out hope for singles. Listeners will have to take the full headlong plunge into the band's rhythmically intricate, atmospheric and acoustic indie and hope for the best.
Dirty Projectors
Release date: TBA
Songs so far: "Keep Your Name"
Why you should be psyched: Tireless contrarians and restless genre mixologists the Dirty Projectors have found their next delightfully off-putting sound fit to fill a new project. They offered the first taste in September with "Keep Your Name," a pitch-shifted song of longing that alternatingly piles on and sheds electronic textures on top of a tranquil piano line. 
It feels like their most disorienting mix yet, though that's hard to judge as every album has simply prepared listeners for a deeper plunge into the unknown, like interval training for the experimental listener. This upcoming project may be the group's last with singer Amber Coffman, who announced a solo project in October, fueling split rumors. Fans will have to wait and see if the supposed strife takes shape within the album's dynamics.
Jay Z
Release date: TBA, likely a surprise, considering his fam's history.
Songs so far: "Spiritual"
Why you should be psyched: Jay Z has some explaining to do. The world barely heard a peep out of the legendary heir to Biggie's New York throne in 2016. He acknowledged none of the rumors of infidelity leveled by Beyoncé's Lemonade, and his silence in the face of Kanye West's public ranting about him being a shitty friend, which shook the mighty Yeezus to his core. For Jay, it's just more material and intrigue to address on his upcoming and inevitable response album.
The only music Jay released in 2016 was "Spiritual," a meditation on police brutality, which he reportedly wrote years ago. Other than that, we have little idea what his album could sound or feel like, but it's likely to be his most personal yet.
The xx, I See You
Release date: January 13, 2016
Songs so far: "On Hold"
Why you should be psyched: The xx first surged into the indie EDM world with their debut self-titled in 2009, an album full of whispers that created such a disproportionate uproar in the scene. They're set to return in 2017 for their first project as a group since splintering briefly for Jamie xx to release his refreshing sample-heavy solo effort In Colour in 2015. 
For that effort, he collected up new sounds, new styles, made fresh connections with some of hip-hop's finest such as Young Thug and Popcaan. The band's been touting their new album as being "more outward-looking, open and expansive" than any of their previous. After seeing the beauty that open-mindedness can create on In Colour, we're ready to hear how that will manifest in a full band setting.
Lorde
Release date: TBD
Songs so far: None.
Why you should be psyched: One song was all it took to turn then-16-year-old Ella Yelich-O'Connor into international superstar Lorde. Since "Royals" we've only heard scraps of Lorde's preternatural gift for melody and ear for subtle, evocative soundscapes. But we have seen her become besties with Taylor Swift, curate a blockbuster soundtrack and heard from the mouth of David Bowie himself that she is the "future of music." We'll see if her sly, bedroom anthems will live up to that weighty prophesy or find themselves crushed beneath the hype.
Gorillaz
Release date: TBD
Songs so far: None.
Why you should be psyched: Gorillaz have managed to weather just about every destructive force which has threatened to end a band before their peak: relationship drama, creative differences, addiction. And yet musician Damon Albarn and illustrator Jamie Hewlett just keep falling back in step to renew their goofy, but raw hip-hop, indie crossover whenever the world starts to miss it. The band has already released four animated stories to set up their animated bandmembers stories, and they've gathered a host of epic collaborators to realize their next vision. It's going to be a wild ride, as every Gorillaz release has been since their timeless "Clint Eastwood."
Kanye West, Turbo Grafx 16
Release date: TBA
Songs so far: None.
Why you should be psyched: No man saw his career oscillate more frequently or more rapidly between most loved and most hated in 2016 than Kanye West. He released one of the year's best albums; took one of pop's most beloved celebrities down a notch; curated a disastrous runway show; pledged allegiance to he-who-must-not-be-named; visited the hospital and died his hair sherbert. He seems to be back on his feet now, pushing himself to create even when hospitalized. Kanye is always at his best when he has real life experience to internalize and justify and come the release of Turbo Grafx 16, or whatever it's set to be called, he'll have a hell of a lot to work with and an all-star team to help him actualize it.