'Celebrity Big Brother' Cast 2017: Rumored and confirmed celebrity contestants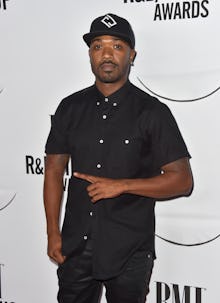 The finishing touches are being made on the next cast of Celebrity Big Brother. Though contestants are still being confirmed, there are rumors floating around about the likely contenders for season 11, including Ray J, Katie Price and Malika Haqq — to name a few.
So far, there are several celebrities returning to the house to compete on the All-Stars team. These veterans of past Celebrity Big Brother seasons will compete against the New Stars, according to Mirror. Here's a rundown of those who are rumored to be part of Celebrity Big Brother, set to air Jan. 3 on the U.K.'s Channel 5. 
Ray J 
The show is shaking things up by adding Ray J, widely known as the ex of Kim Kardashian West, according to MTV U.K. Ray J's addition to Celebrity Big Brother is no surprise, considering he's appeared on several reality TV shows, most recently Love and Hip Hop Hollywood.
Jamie O' Hara
British soccer star and midfielder Jamie O'Hara will join the house as the show's first professional soccer player.
Austin Armacost
Former Celebrity Big Brother contestant and American model Austin Armacost, who was evicted from the house during the show's 2015 run, is rumored to be coming back. 
Fat Man Scoop 
It's possible Fat Man Scoop will give Celebrity Big Brother a go for the second time. The show made a teaser video of its next contestant, featuring what is believed to be Scoop's body, face and voice distorted to keep fans guessing. 
Malika Haqq 
Actress Malika Haqq, who also has ties to the Kardashians, may be joining Celebrity Big Brother for the first time. Haqq — Khloe Kardashian's best friend — has previously appeared on Kocktails with Khloe and Keeping Up With the Kardashians.
Bianca Gascoigne
Bianca Gascoigne, the former stepdaughter of British soccer player Paul Gascoigne, is reportedly joining the group of newbies in the Celebrity Big Brother house. Like many of the other contestants, she's not new to reality TV, having won another show called ITV's Love Island in 2006.
Katie Price
The All-Stars team will have a great advantage if 2015 winner, model and TV personality Katie Price returns for season 11 of Celebrity Big Brother. According to rumors, there's a high chance she'll be back in the house.
Nicola McLean
British model Nicola McLean is expected to join the lineup of returning housemates in the new year. She previously had a stint on Celebrity Big Brother in 2012.
Heidi and Spencer Pratt
It's been four years since Heidi and Spencer Pratt competed as a couple. Reports say they'll be making a comeback by moving into the Celebrity Big Brother house.
Sam Thompson
Rumors have been swirling about British actor Sam Thompson appearing on Celebrity Big Brother in 2017 after revealing in November his desire to join the cast.