'Love & Hip Hop' star Joseline Hernandez just got real about giving birth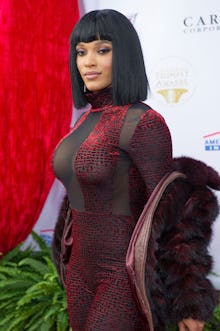 At one point or another, parents are likely to remind their children that they are the ungrateful products of their mother's sacrifice and agonizing parturition. However, if you're Joseline Hernandez, star of the VH1 reality series Love & Hip Hop: Atlanta, you might instead tweet mid-labor threats at your unborn daughter.
Before giving birth to daughter Bonnie Bella early Thursday, Hernandez inconceivably managed to take some time out from labor pains to send out the following hilarious tweet: 
Though details are yet to be revealed, Hernandez has been documenting the pregnancy for the Joseline Hernandez Delivery Special on VH1, which does not yet have a premiere date. Since giving birth, both parents have taken to social media to express their excitement.
In the past, the paternity of Bonnie Bella has been called into question by Hernadez's estranged husband, musician and record producer Stevie J. A DNA test confirmed that he was, in fact, the child's father. Bonnie Bella is Joseline's first child and Stevie's sixth.