'Crash Bandicoot' PS4 Release Date Rumor: Did a Brazilian retailer spill the beans?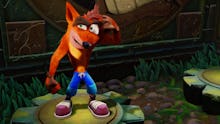 PlayStation already confirmed a remastered version of the original Crash Bandicoot games, called the Crash Bandicoot N. Sane Trilogy, will be available on PS4 sometime in 2017. However, a listing on the Brazilian website Zillion Games may have spilled the beans on its exact release date ahead of schedule.
Crash Bandicoot N. Sane Trilogy release date leaked?
If the Zillion Games website is to be believed, you might be able to get your hands on the remastered Crash Bandicoot N. Sane Trilogy as soon as Feb. 28, according to GameTransfers.
However, online retailers often list placeholder dates on their websites for pre-ordering purposes, which means the listed date could eventually change once an official release date is announced.
Basically, take this with a grain of salt — it's nothing more than speculation at this point. Mic will keep you in the loop when PlayStation officially announces a more specific release date for Crash Bandicoot N. Sane Trilogy.
More video game news, updates, tips and tricks
If you're on the hunt for more gaming news, check out some of Mic's other gaming content. Here's how to register for information on Super Mario Run for Android, information on the latest Pokémon Go nest migration, a ranking of the Overwatch character roster and our list of the best games you can get for PS4 and Xbox One.