18 times tech companies failed women in 2016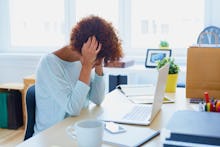 Men dominate Silicon Valley. The chances of a woman influencing a major company decision or shaping the product in your hands? May the odds be ever in your favor. It's the season for end-of-year lists, so we thought we'd take a look at how this sea of dudes did women wrong in 2016. Look, it wasn't all bad. Apple, Google, Intel and Facebook all increased female representation at their companies by a whopping one percent. And according to the new emoji keyboard, we can finally be scientists and doctors, too. (Jury is still out on whether we're getting an equal pay emoji. Fingers crossed.) 
Let's take a look at 18 times tech companies failed women this year. Alternately, a list of things Silicon Valley companies can print out and frame as what not to do in 2017. Here we go:
A very bad Razer tweet
This year one tech company told another tech company to suck its dick. In November, hardware company Razer tweeted out "You call yourself Pro? S my D," in what is likely a poke at Apple for removing the SD card slot from its new MacBook Pro. The tweet to many signaled the lack of female representation in the gaming industry, but also a disregard, and even toxic, attitude toward female gamers. The tweet has since been deleted (ah, regret) but not before receipts were captured (ah, screenshots).
Homogenous keynote stages
Lack of women isn't exclusive to the gaming industry, it's a representation issue present across all of tech — a problem that throws itself into the spotlight every year during the overlord's annual conferences. We tracked the gender diversity onstage at both the Google and Apple events this year and found that not only did women get significantly less speaking time than men, they also are often delegated to demoing products that a man already announced.
Apple's response to criticism
Following Mic's coverage calling out Apple's lack of diversity onstage, an Apple public relations spokesperson sent an email defending the company's gender disparity. "By your measure, we will keep failing until we have a female CEO AND head of marketing who would admittedly own larger portions of the program," he wrote in the email. It is a failure to have lack of women in leadership roles, yes. "She wasn't an ornament — she was the driver of her entire company's fame, fate and future in those 3 mins," he wrote, referencing one of the demoers. For a two-hour conference, three minutes is not a triumph. (The spokesperson also pointed to a Canadian onstage as a diversity victory.) 
A belated set of harassment tools on Twitter
Women spent a lot of time this year urging Twitter to fix its online abuse problem. Twitter instead gave us hearts and stickers. But its harassment issue became increasingly harder to ignore as high-profile users had to flee the platform when the targeted abuse became too much. Interested buyers also fled potential deals because of Twitter's wild trolls. The company finally rolled out new anti-abuse tools in November, affording users the options to mute specific words or phrases as well as a "more direct way to report" hateful conduct. It's not enough to ensure a troll-free experience, especially in the Trump era where they've proven emboldened, but it does show that Twitter finally heard its users' cries.
Dumb-as-hell smart tampons
This was the year that startups looked at women's periods and thought: I'm gonna disrupt you. How? I'm gonna connect you to the internet of things. And so, companies trod forward, asking ladies to attach their tampon string to a belt clip that connects to an app.
The literal objectification of the human female 
Sex dolls existed before 2016, but it wasn't until this year that we caught a glimpse into the future for the industry. Sex doll manufacturer RealDoll announced that it was gearing up to release a smart sex doll, or rather, one equipped with artificial intelligence that may even simulate love. (Does that future make you uneasy? Maybe it should.) But the issue here isn't a fuckable Her future, but rather how the company's CEO Matt McMullen views the products — as direct competition to the "human female."
A dainty pink smartphone for women
Sure, this phone didn't almost explode in anyone's face, but boy would I like to watch it burn. Keecoo Mobile released its first product this year, the Keecoo K1, a smartphone designed for the "small hands of women." There's nothing wrong with a delicate pink phone. There's also nothing wrong with built-in software that "automatically makes your skin look delicate and smooth." But marketing the product exclusively to women under the stereotypical presumption that all women, and only women, want a small and pretty and shiny rectangle that makes us look pretty ... there's a whole world of things wrong with that.
No sense of urgency to bring any women onto their board of directors
In 2015, Fortune reported on all of the unicorns — private firms valued at more than $1 billion — with no women on their board of directors. When we checked back in on them this year, scant progress was made. After 20 months since Fortune's report, eight out of the 33 companies added one woman to its board, 22 are still 100% male, and at least three only added more men.
A sea of Her's
If you barked orders at a digital assistant this year, the chances are sky-high that a female voice gently cooed back. We have Alexa, Cortana, Siri and Viv. Even Google Home's default voice setting is also female. There's nothing inherently feminine about a cylindrical slab of metal, but tech companies continue to ascribe a female identity to these non-corporeal, digital assistants. This aligns with the secretary tradition, an old-fashioned notion associating subservient, secretarial jobs to femininity.
A "blame the pipeline" problem
Rather than look in the mirror, some individuals in the tech community prefer to point fingers at the pipeline when addressing a lack of company-wide diversity. This year, Facebook head of diversity Maxine Williams blamed the pipeline — a lack of available talent entering the industry — for the company's marginal increase in the hiring of women and people of color. But many in the industry say it's not simply a matter of "having the opportunity to gain necessary skills through the public education system," as Williams said. Discrimination, sexual harassment and brogramming culture still plague potential candidates who are qualified for the jobs.
Women's safety in the passenger's seat
Sexual harassment and assault perpetrated by drivers of ride-hailing apps has become so common, there's now a webpage dedicated solely to listing all of the reported incidents involving an Uber or Lyft. It's no wonder a company found a market in a ride-hailing service that only allowed women drivers and passengers. In June, Uber secured a $3.5 billion investment from Saudi Arabia's Public Investment Fund, a government that prohibits women from driving. Unsurprisingly this didn't sit well with Saudi women.
Instagram's sexist double standard
The #FreeTheNipple movement on Instagram aims to call out the photo-sharing service for permitting male nipples on the platform while swiftly banning female nipples. Instagram CEO Kevin Systrom blamed Apple for the rigid policy. But it's not just nipples — a number of body-positive female images have been wiped from the platform while topless men and, if you get creative enough, a flood of hardcore porn still run wild and free.
Sexual harassment in virtual reality
Women are being sexually harassed in virtual reality — and companies are responding by working on tools to help combat the abuse. And then there's Koei Tecmo. In the company's game Dead or Alive Xtreme 3, a gamer is afforded the opportunity to grope a female avatar — one exhibiting nonconsensual verbal cues and body language.
Hackable dildos
Anything connected to the internet is susceptible to hackers. That does not exclude teledildonics. If you're in the market for a dildo your significant other can remotely control, you might want to make sure the security is sound — you don't want to be picking up someone else's good vibrations.  
The removal of a lesbian couple from an ad
While Apple has been vocally supportive of the LGBTQ community, a quiet edit to some of its Mother's Day ads this year marked a contradictory sentiment. When the company uploaded a YouTube video in May, different countries featured slightly different versions of the ad. In the French, German, Italian, Turkish and Japanese iterations, the same-sex couple had been removed.
Google's algorithm assuming women are evil 
This year we learned the hard way that artificial intelligence isn't free from human bias. Microsoft's Tay quickly evolved into a bratty neo-Nazi, Google's Photos app tagged black people as gorillas and the top Google search result for "did the Holocaust happen" was a big fat "nope." This bias also proved unfriendly to women — Google's autocomplete suggestion leaned sexist, guessing "evil" when users typed in "are women."  In an even more unsettling manifestation, when someone asked their Google Home, "are women evil?" the female voice responded with:
Every woman has some degree of prostitute in her. Every woman has a little evil in her. Women don't love men, they love what they can do for them. It is within reason to say women feel attraction but they cannot love men.
The cancelation of a show that passes the Bechdel test
Amazon this year released Good Girls Revolt, a 10-episode drama centered around a group of women who brought a discrimination lawsuit against their publication, a story loosely based on the real-life group of female journalists who filed a complaint against Newsweek in 1970. Amazon Studios declined to renew the show for a second season, despite its successful viewership and completion rate.
The acceptance of a seat at a powerful misogynist's roundtable
Donald Trump's sexist comments were well-documented throughout his campaign. Most notoriously was the leaked audio of the now president-elect bragging about grabbing women by the pussy. And yet, merely two months following the leak, a representative from nearly every major tech company accepted Trump's invitation to join him for a roundtable meeting. Silicon Valley's silence leading up to the meeting was deafening — but seeing an image of some of the most powerful individuals in tech (and, possibly, the world) willfully rubbing elbows with a man who bragged about sexual assault is plain unnerving.