International Consumer Electronics Show 2017: 4 new gadgets we're already excited for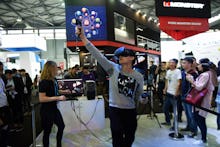 The International Consumer Electronics Show kicks off next week. 2017's edition marks the event's 50th anniversary and tech companies are going all out to impress attendees on the show floor. While many of the innovations won't be revealed until the expo begins, we have a solid idea of what to expect — here's what we're most excited for. 
LG Levitating Speaker 
Wireless Bluetooth speakers are already cool, but LG is taking them a step further with a portable levitating speaker. The futuristic device reportedly has 10 hours of battery life; for premium bass quality, its charging station doubles as a subwoofer for premium bass quality. 
Samsung Robot Vacuum
Samsung's spotlight will likely be centered on the three smart TV services the company is launching in 2017, but in terms of gadgets, we're intrigued by its new Amazon Echo-compatible robot vacuum. More details will be available at the event, but the idea alone serves as a reminder that smart homes are becoming a reality. Isn't that cool, Alexa?
Finch Shift Virtual Reality Kit
CES 2017 will be a disappointment for those expecting to see the HTC Vive 2, but another virtual-reality company will be launching an exciting product. Finch, a VR startup, is introducing a device called Shift, which is a VR kit that doesn't require external cameras or wires, unlike the Vive or Oculus Rift. An excerpt from its press release sounds pretty intriguing:
The [Shift's] controller employs modified IMU sensors to determine real-time hands' position with sub-centimeter accuracy and a 360-degree tracking range. Coupled with the 'PC-to-mobile' streaming software, it allows running existing Steam VR, O?ulus and HTC Vive apps and games on smartphones. The Finch Shift will also allow mobile gamers to interact in virtual reality through a multiplayer option.
It's being billed as the product to "accelerate 'The Mobile VR Revolution.'" We'll certainly be paying attention to see if that's true. 
Cars in general
From self-driving technology to electric cars, CES 2017 is poised to be a big event for automobiles. Chrysler is expected to fully unveil its plug-in hybrid Pacifica minivan; Hyundai is jumping into the autonomous vehicle market; and BMW will showcase its HoloActive Touch technology, which allows drivers to adjust audio and navigation with a combination of body gestures and BMW's Head-Up Display.