What inspired Princess Leia's buns? Here's the history behind the iconic 'Star Wars' look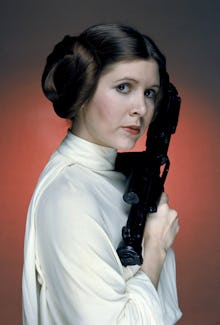 Just days ago, Carrie Fisher — the beloved actress, author, screenwriter, script doctor, activist and more — died at the age of 60 following a heart attack on a flight from London to Los Angeles. The world is still in shock as fans, celebrities and family have turned to social media to say goodbye and pay tribute. 
While later in life Fisher made quite the name for herself as an activist and author, there's no denying she will forever be linked with her most famous character, Princess Leia Organa from the Star Wars franchise. Fisher herself recognized this, telling Time Out in 2014, "I am Leia and Leia is me. We've overlapped each other because my life has been so cartoony or superhero-like. By this age, it would be ridiculous if I had a problem with it."
Fisher's role as Princess Leia has been an inspiration to fans and peers, as one of the most popular heroes (female or otherwise) in cinematic history. Agents of S.H.I.E.L.D.'s Chloe Bennet tweeted shortly following Fisher's death, "RIP Carrie Fisher. Thank you for inspiring generations of young women to kick ass."
Princess Leia, though, is not only famous for being a kick-ass heroine — she has also become a cultural icon for her famous hairstyle. For generations, women have dressed up as Leia, sporting her iconic "buns." But what exactly inspired George Lucas to create Leia's infamous look? 
According to BBC News, Brandon Alinger, author of Star Wars Costumes: The Original Trilogy, said Leia's famous buns never appeared in the concept art done for A New Hope. 
Lucas told Time in 2002 that Leia's iconic hairstyle was inspired by the soldaderas from the Mexican Revolution. Lucas said he "went with a kind of southwestern Pancho Villa woman revolutionary look, which is what that is. The buns are basically from turn-of-the-century Mexico."
But despite Lucas' claim, there seems to be little evidence that soldaderas commonly wore such a hairstyle during the Mexican Revolution.
Is the Hopi tribe the "most obvious" inspiration?
BBC spoke with Tabea Linhard, author of Fearless Women in the Mexican Revolution and the Spanish Civil War, who said, "As much as I would like to say that Princess Leia's hairstyle was based on the soldaderas from the Mexican Revolution, this was probably not the case."
Linhard explained that due to battlefield conditions and the soldadera's tasks, "a hairstyle like Leia's probably was not a convenient option." 
This doesn't mean Leia's look was not inspired by early North American hairstyles. Though not identical to Leia's buns, the Hopi women in Arizona reportedly wore their hair in a "squash blossom" style, somewhat similar to Leia's.
Kendra Van Cleave of the website Frock Flicks told the BBC this hairstyle worn by the Hopi tribe was the "most obvious" inspiration for Leia's look. "This [hairstyle] consists of two side arrangements which aren't actually buns — they're more loops of hair," Cleave said.
While not identical, there's a definite similarity visible in Ashely S. Westerman's tweet below: 
Was George Lucas just mistaken about the soldaderas? 
While Linhard's and Cleave's comments to the BBC would seem to suggest Lucas just got his facts wrong, this may not be entirely true. Eric Tang, an associate professor of the African and African Diaspora Studies Department at The University of Texas at Austin, recently posted on his Facebook page a photo after visiting the Denver Museum of Art, which has a Star Wars exhibit. 
The photo is tagged with writing that says "Mexican revolution hairstyles women." While Leia's famous buns may not have been common among women in the Mexican Revolution, it does appear that Lucas may have been inspired by the above look when crafting Leia's now-iconic hairstyle.
No matter what inspired Lucas and his team to style Fisher's hair the way they did, what is for sure is that Fisher, Princess Leia and her hair will be remembered by many. 
Mic has ongoing coverage of Star Wars. Please follow our main Star Wars hub here.