Black billionaire Robert Smith is sponsoring the education of 24 Chibok schoolgirls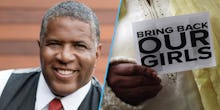 Two dozen Nigerian Chibok schoolgirls will have the opportunity to restart their lives after surviving nearly two years of captivity under terrorist group Boko Haram thanks to the help of black billionaire Robert Frederick Smith, Quartz reported on Wednesday.
Nigerian media announced that Smith, founder of the American private equity firm Vista Equity Partners, will be sponsoring the education of 24 Chibok schoolgirls, including 21 who were released in October. According to Garba Shehu, Nigeria's presidential spokesman, Smith's scholarships will sponsor the girls to attend the prestigious American University of Nigeria, Yola.
"A black American billionaire, Mr Robert Smith, who is currently sponsoring the education of 24 girls from Chibok, among them the first set of escapees from Boko Haram at the American University of Nigeria, Yola, has offered to pay for the education of the 21 released girls through negotiations and is offering to take responsibility for all the others who will hopefully be eventually set free," Shehu said in a statement to Nigerian newspaper Leadership.
Smith, a father of two young girls, first heard news of Boko Haram kidnapping the girls when driving his own children to school. He was shaken by the report, he told the Guardian in 2015; a lack of media coverage and international concern frustrated Smith even more. 
"We've got the Black Lives Matter campaign going on [in the U.S.] at the moment, and these girls matter too," Smith added. "Their lives matter not just because of the events that happened, but just because their lives matter."
In April 2014, Boko Haram, a terrorist group in Nigeria, kidnapped more than 200 girls from the city of Chibok. The girls, according to the New York Times, were offered only two options: "Join the militants or become their slaves." The girls were subjected to abuse, torture, starvation and rape. Some of them were also forced into marriages with militants. According to Al Jazeera, Amnesty International estimates Boko Haram abducted approximately 2,000 girls and boys since 2014. Many of them were forced into sex slavery, fighting and carrying out suicide bombings. 
In October, the Nigerian Army rescued 21 Chibok schoolgirls from Boko Haram's captivity.
According to Quartz, Smith is the second-richest black American — preceded only by Oprah Winfrey — and has a net worth of $2.8 billion. In September, according to the Washington Post, Smith donated $20 million to the Smithsonian's National Museum of African-American History and Culture. Several months earlier, in January, Smith donated $50 million to his alma mater, Cornell University's College of Engineering.
According to Al Jazeera, Smith is known to many as the "quiet billionaire" because he often shies away from making his philanthropic efforts public.