Will Ray J be on 'Celebrity Big Brother'? 4 things to know about Kim Kardashian West's ex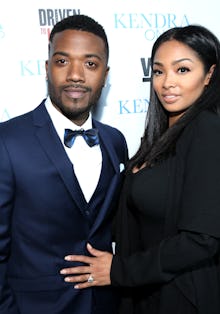 Will Ray J be appearing on Celebrity Big Brother in 2017? That's the latest rumor according to British tabloid The Sun. If the reports are true, Ray J will be a housemate on the UK reality series 10 years after his sex tape with Kim Kardashian West leaked. 
The channel 5 show has yet to confirm the contestants, but according to reports, the series wanted Ray J because of his past with Kardashian West. The question heading into the new season is how much Ray J will reveal about his three-year relationship with Kardashian West. While we can't predict the future, we can give you a rundown of everything to know about the singer-songwriter and TV personality before the Jan. 3 premiere.
He's married to Princess Love
In August Ray J married his Love & Hip-Hop Hollywood co-star Princess Love. Days after their wedding, LHHH co-star Moniece Slaughter made headlines (and drama) when she said she doesn't expect the marriage to last more than two years. Per TMZ, Slaughter "hooked up" with Ray J in the pre-Love era, which may explain her ire.
"Princess doesn't like the fact that I'm familiar with her man," Slaughter said in a confessional on the show, according to the International Business Times. "Maybe just as familiar as she is and maybe even a little more. ... But she should just get the fuck over it."
Brandy is his sister
Ray J is singer Brandy's brother. Their father is gospel singer Willie Norwood and their mother is entertainment manager Sonja Norwood. Together, the family stars on Brandy and Ray J: A Family Business, which follows their personal and professional lives. 
Snoop Dogg is his cousin
According to Atlanta Black Star, Snoop Dogg first publicly revealed that Ray J and Brandy are his cousins in a 2006 MTV interview. Apparently when the three first found out they were related, they wanted to keep it a secret. Now they are open about the fact that they are family. Case in point: After Ray J's wedding, Snoop Dogg posted this picture on Instagram with the message, "Congrats to my cousin @rayj and Princess." 
He's not too fond of Kim
In November, he released the song "Famous," featuring Chris Brown. The song has the same title of a song put out by Kanye West, and takes a couple digs at Kardashian West. As Billboard pointed out, West's song mentions Ray J and the video featured nude wax likenesses of both him and Brown.
In "Famous," Ray J sings, "She fuck me for fame, look in her eyes/ She was the first one to sign on the line/ She was the real one that planned it all out/ Look at the family, they walk around proud/ All because she had my dick in her mouth." The lines "Wanna have me in bed while you fuckin' your spouse/ Shows that you still a rat and your man Mickey Mouse" take aim at Yeezy.
"You can't fault me and Chris for responding to all the things that have been done about us [in the media] over the last few months," Ray J told Billboard.