Stanford football player accused of rape will still play in the Sun Bowl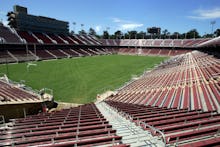 On Friday, Stanford University's football team will take the field for its Sun Bowl game against North Carolina. Among Stanford's players will be a student who three out of five members of the university's disciplinary board agreed was responsible for committing sexual assault.
The majority decision, though, had not been enough to take any action against him; it's not even enough to keep him off the football field. 
According to the New York Times, when ruling on the student's case in June 2015, university officials decided the board would have to arrive at a minimum four-to-one vote in order to find a student guilty.
This particular case involved the unnamed football player — who remained on the team for the duration of his disciplinary hearings — inviting a sophomore back to his room after a frat party. He said they had consensual sex; she said he sexually assaulted her. 
Following what the Times called a disciplinary "process marred by procedural errors," campus officials granted the accuser a second disciplinary hearing, which only brought the same outcome: a three-to-two split that fell short of the threshold to establish guilt. The female student eventually left Stanford to be away from her alleged rapist, noting that all she had really sought was a "no-contact order"; she said she knew her alleged attacker would never be suspended or expelled.
"I realized that I got into this school and deserved to get an education here," the woman told the Times. "He was a valued football player, but I had earned my right to be here, too."
Word that Stanford is at the center of another sexual assault story may be less of a surprise to those who've kept up with campus news this year.
The university's name quickly became attached to former student Brock Turner, the so-called "Stanford rapist" found guilty of three counts of sexual assault after violating an unconscious woman behind a dumpster. 
Stanford fell under even more scrutiny when, after Turner testified that alcohol was to blame for his behavior, the school issued a campus ban on hard liquor in an attempt to "meaningfully change the campus culture around alcohol." University officials denied there was any link between the new policy and Turner's case. Of course, that same day, news broke that Stanford had published a post on its student affairs page regarding "female bodies and alcohol," ostensibly giving advice to female students on how to avoid getting assaulted. 
In September, a BuzzFeed News report alleged that Stanford had offered settlements to at least two women in exchange for the withdrawal of their Title IX complaints against the university, which were under the investigation of the Office for Civil Rights. Officials maintained that the settlements were responding to the students' demands, but one of the two women, Leah Francis, maintained campus officials were trying to "bully survivors of sexual assault." 
Despite the backlash, Stanford continues to have some of the strictest procedures in terms of delivering a guilty verdict to an accused student. This year, the university altered its formerly five-person panel to a three-person one which must come to a unanimous decision before finding a student responsible of sexual assault. 
The university's policies have even been criticized by its own faculty, who called for Stanford to take a hard stance on campus assault. 
"Everyone knows sexual assault on campus is a serious problem, and one that is very difficult to tackle," Stanford professor David Palumbo-Liu told the Times.
"Many of my colleagues are deeply concerned about it and want Stanford to be a leader in addressing this issue assertively."