Trump Inauguration: Bristol Palin says artists who refuse to perform are "sissies"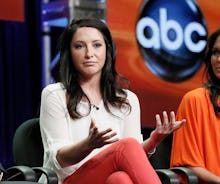 Like most 20-somethings, Bristol Palin appears to be a fan of the listicle. The daughter of former vice-presidential candidate Sarah Palin took to her blog to offer up a succinct list of artists who refused to perform at Donald Trump's inauguration ceremony. She also offered up some commentary, calling figures like Elton John, Katy Perry and Garth Brooks "sissies":
"Isn't it amazing how 'not cool' it is to be conservative in the public eye? Either Hollywood is that far off — or we have so many sissies ... in the spotlight too scared to stand for what they believe in!"
For the most part, the post was a straightforward account of the entertainers who have refused to perform on Jan. 20. Besides John, Perry and Brooks, the list also includes Celine Dion, Andrea Bocelli, The Chainsmokers, Justin Timberlake, Bruno Mars, Aretha Franklin and David Foster.
Palin's list comes after Trump (naturally) took out his frustration at the "so-called 'A' list" on Twitter.
At the end of her post, however, Palin did express some optimism about the vacancies in performers, referring to 16-year-old Jackie Evancho, who's slated to sing the national anthem at Trump's inauguration. 
"But this is what's great about America; you're allowed to say no," she wrote. "And these A-listers declining the invitation has opened up a chance for someone who really needs it."
In other Bristol Palin blog news, Palin had taken to her blog Dec. 27 to post about Taylor Swift visiting a 96-year-old World War II veteran.