College football playoffs 2016-17: latest viewing info and expert predictions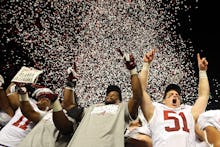 It's bowl season.
This year, the Alabama Crimson Tide and the Washington Huskies will play in the Chick-fil-A Peach Bowl, and the Ohio State Buckeyes will take on the Clemson Tigers in the PlayStation Fiesta Bowl, to see which two teams will compete in the National Championship Jan. 9.
Here's what you need to know going into the games:
The viewing info
Both semifinal games will be played on Dec. 31.
The Peach Bowl kicks off at 3:30 p.m. Eastern in Atlanta and the Fiesta Bowl at 7 p.m in Glendale, Ariz. Both will be broadcast on ESPN and can be streamed live at WatchESPN.com or the WatchESPN app.
The College Football Playoff National Championship in Tampa will take place Jan. 9 at 8 p.m. and will be broadcast on ESPN.
The matchups
Alabama heads into the playoffs as the heavy favorite to win it all. The Tide beat Clemson in the National Championship last year, and are the number one seed after going 13-0 during the 2016 season.
They take on the four-ranked Washington Huskies, who lost just one game during the regular season. Some believe that the Huskies, led by former Boise State coach Chris Peterson, have a potential upset in them, provided Washington quarterback Jake Browning continues his stellar play and the defense can put pressure on 'Bama's true freshman quarterback Jalen Hurts. Nevertheless, Coach Nick Saban's Alabama team remains the playoff team with the highest expectations. As Sports Illustrated's Andy Staples puts it, "Anything short of a national title will be considered a failure for this team."
The Fiesta Bowl will likely be a little less clear cut.
No. 3 Ohio State enters their New Year's Eve contest against No. 2 Clemson as the first team to advance to the playoffs without winning its conference. Some believed the Penn State Nittany Lions, who beat Ohio State in October and won the Big Ten championship, should have made the playoffs. (The four playoff teams are chosen by The College Football Playoff Selection Committee, a group of 12 people with college football or administrative experience.)
But the Buckeyes and Tigers, both with talented quarterbacks, fearsome defenses and just one loss during the regular season, will likely make for an even-matched game. CBS Sports has the line at +3.5 in favor of Clemson, with most experts predicting Crimson Tide-Tigers rematch in the national championship.