Healthy one-pot meals for 100% deliciousness and zero cleanup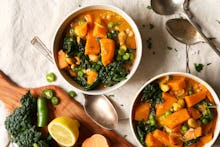 One major reason to default to takeout instead of cooking? The dishes. The thought of looming crumb-and-grease covered pots, pans, plates and utensils that result from cooking at home can make the whole concept of meal prep hugely daunting — and unenjoyable.
If you simply dread the thought of scrubbing dishes after feasting on a home-cooked meal, it's time to convert to one-pot meals. 
These tasty dishes can be created with minimal kitchen equipment to make cleanup a cinch and optimize your cooking enjoyment. Healthy one-pot meals bring on the deliciousness, and cleaning that single pot may even be easier than taking out your post-takeout trash. Many recipes require a pot that can be used on both the stove and in the oven, so gear up with a dutch oven or cast-iron skillet before embarking on your new one-pot lifestyle.
One-pot Greek oregano chicken and orzo with tomatoes in garlic oil
The Mediterranean diet is regarded as one of the healthiest on earth, so making an entire Mediterranean-style meal in one pot should be a no brainer. Consider using whole-wheat orzo for some added fiber. Get the recipe here.
One-pot lemon orzo shrimp
Another Mediterranean-style meal, this citrusy shrimp dish feels fancy enough to feed a crowd — they'll all have to fight over who'll clean the only pot in gratitude. Get the recipe here. 
One-pot skinny pasta primavera
Sure, boiling spaghetti and dumping a jar of Prego on top is technically a one-pot meal, but if you're in the mood for pasta, try this veggie-filled one-pot recipe instead. It's almost as easy as opening a jar of sauce. Get the recipe here. 
One-pot tomato, basil and burrata spaghetti
If you prefer sticking to basics, this simple spaghetti is still arguably healthy and definitely tasty. Get the recipe here. 
One-pot herb-roasted chicken with butter-toasted wild rice pilaf
Protein? Check. Vegetables? Check. Whole grains? Check. This one-pot recipe has everything you need for a nutritious and satisfying meal, ready in less than an hour. Get the recipe here. 
Root vegetable cassoulet
Traditionally meaty cassoulet goes vegan with this tasty and healthy one-pot dish. Get the recipe here.
One-pot kale sweet potato curry
Flavorful enough to excite your taste buds on leftover nights, this vegan one-pot curry is a quick and healthy meal that may just become your new cold-weather staple. Get the recipe here. 
One-pot kale and quinoa pilaf
Kale! Quinoa! You know this pilaf is healthy and it's super easy to make. Get the recipe here. 
Creamy tomato barley risotto
Barley replaces rice in this easy-to-make vegan risotto dish. Get the recipe here. 
One-pot Spanish chicken and potatoes
This one-pot feast offers a quick trip to Spain in just a skillet! Eggplant and chicken breasts make this dish flavorful and healthy. Get the recipe here. 
One-pot creamy spinach lentils
This hugely hearty and satisfying pot of lentils and veggies will make you wonder why you even own more than one pot. Get the recipe here. 
Brussels sprouts and sausage parsnip spiralized pasta 
This one-pot pasta isn't made with pasta at all — it's actually spiralized parsnip that gives the dish the appearance and texture of al dente spaghetti. Get the recipe here. 
Paleo squash pesto spaghetti
You won't have a single pot to clean after making this recipe — half a spaghetti squash serves as your cooking vessel. Get the recipe here. 
Poached cod in tomato broth
This elegant, high-protein, low-carb dish can be prepared in 35 minutes and is seriously restaurant-worthy. Get the recipe here. 
One-pot sticky chicken wings
Serve these oil-free, soy-sauce-covered wings with a big side of greens to create a truly healthy meal. Get the recipe here. 
Skillet tomato casserole with white beans and parmesan croutons
Casseroles are totally healthy when they're packed with veggies and legumes. No judgment if you eat it right out of the skillet. Get the recipe here. 
One-skillet balsamic chicken and vegetables
The balsamic vinegar in this one-pot recipe reduces to become a highly flavorful, sweet sauce for the chicken and vegetables — all cooked together, naturally. Get the recipe here.