Healthier fries: Baked and roasted veggie recipes that'll satisfy your french fry cravings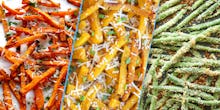 Fried foods may be one of life's greatest pleasures, but eating them can have some pretty dire consequences. 
You don't need us to lecture you about the negative health impacts and heart disease binging on french fries and other fried vegetables can have on your body, but if you're trying to cut back on your fry consumption, we're here for you. 
Baked and roasted vegetables are excellent sides that can be just as crunchy — and salty, if that's your vice — as conventional french fries, making you forget about the potato sticks altogether. Well, almost. Satisfy fast-food cravings with these veggie recipes that pair just as well with a big blob of ketchup. 
Crispy baked garlic matchstick fries
Okay, so you can't quit potatoes cold turkey, but you can skip the super-sized meal and make your own baked fries at home. Get the recipe here.
Parmesan baked sweet potato fries
If you can sub out white potatoes for sweet potatoes — which are high in vitamins A and C as well as many other nutrients — make these baked fries! Get the recipe here.
Skinny tandoori butter sweet potato fries
Make a harissa feta dip for these homemade spicy fries for the best fry-day of your life. Get the recipe here. 
Parmesan butternut squash fries
Think fries can only be made with potatoes? Baloney! These squash fries have just the right amount of softness, crispness and saltiness from the grated cheese to replace potatoes once and for all. Get the recipe here.
Baked green bean fries
Green beans never looked so crisp and delicious! You'll soon start requesting these panko-crusted veggies at your favorite burger joint. Get the recipe here.
Baked zucchini fries
Fans of eggplant parm will easily get on board with these breadcrumb-coated zucchini sticks. Get the recipe here. 
Roasted cauliflower
Roasted cauliflower can be seasoned with combinations of Mexican, Italian or Indian spices to make a variety of tasty bites you won't be able to stop popping in your mouth. Get the recipe here.
Crispy baked yuca fries
Yuca, or cassava, is a South-American root vegetable that's starchier than a potato and high in vitamin C — and it makes a great fry. Get the recipe here.
Baked carrot fries
Carrot sticks are for hummus, carrot fries are for ketchup! Get the recipe here.
Nut butter crusted parsnip fries
These fries are said to be life-changing. 'Nuff said. Get the recipe here.
Baked parsnip fries
This take on parsnip fries makes them crisp and just salty enough, almost indistinguishable from your favorite french fries. Almost. Get the recipe here.