I tried the DIY "Face Guacamole" skincare face mask one celebrity facialist swears by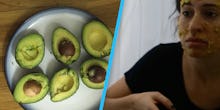 Forget the cucumber slices on your eyes, your newest spa treatment involved a much more exciting green salad ingredient: Avocado.
When the recipe for a "DIY Complexion Saving Face Mask" from celebrity facialist Joanna Vargas landed in my inbox, I knew it was important to put it to the test. 
Does my complexion really need saving? No, not really. But as a minor face mask addict, I was eager to jump on the opportunity to rub avocado all over my face instead of some nice-smelling, overpriced goop that comes from a jar. 
Here's the recipe:
• 2 Tablespoons avocado
"Face guacamole?" I forwarded the recipe to my editor.
"100%" she responded.
So I headed to the store, where, surprisingly, neither mango nor avocado are in season in the Northeast January, so I went for a semi-ripe avocado and bought a package of frozen mango cubes.
Though mango isn't in season, Vargas' at-home skin remedy promised to "relieve all your cold weather skin issues!" so I figured frozen mango was fine in the off-season.
I emailed Vargas to get her advice on making the mask, and she suggested making it right before using it, after cleansing your skin. 
I cleansed my skin, not with homemade face wash, and got to work. 
Making the face mask
The instructions for the recipe read as follows: Mash the avocado and mango in a bowl. Mix in the honey and olive oil and apply to skin.
Avocado and mango, even defrosted mango, don't easily mash together by hand.
Though the recipe told me to add my honey and olive oil after the fruits were mashed, I went rogue and added them anyway, hoping to make my mashing easier. It was not easier, in fact, so I transferred the mixture to a blender to create some type of clumpy baby food to go on my face.
Face mask application
I have applied face masks of many textures: I've worn many a damp paper sheet mask on my face, rubbed on coffee scrub and goopy Peter Thomas Roth elixirs and love the scratchy yet tingly GLAMGLOW Supermud. However, up to this point in my face mask adoring life, I had never attempted to put on any substance as thick and gloppy as the face mask pictured above. Perhaps celebrity facialist Joanna Vargas has a better mashing method, but as I scooped up an oozing, slightly sticky glob of mask in my hand to stick to my face, I had a sinking feeling this might not work. 
Perhaps if I were laying down on a spa table, the mask would have stuck to my face. But, alas, my apartment is spa-table free and as my girlfriend looked on skeptically as I pressed bits of honey-covered mango and avocado to my cheeks, I knew better than to request she be my guacamole facialist. 
Face mask results
Applying the mask to my entire face was a challenge, as the stringy mango bits and avocado particles kept sliding down onto my neck as soon as I felt like I covered a significant part of my face.
Vargas recommends leaving the mask on for 10 minutes to 15 minutes, and again, lying down, this might be easier (though it might drip into your ears ...), but after about six minutes of standing very still over my sink, I had to wash off the guacamole goop. My face felt soft, maybe even softer than before I'd covered it in guacamole, and as a celebration for surviving this very odd food beauty experience, I spread the remainder of the avocado on a slice of toast. 
Avocado for beauty
Avocado isn't a stranger to the beauty world. Kiehl's sells a popular avocado eye cream and avocado oil and be found in everything from solid shampoo to sheet masks to moisturizer.
Eating avocado can also be good for your complexion. 
"Avocado is good for you on the inside and outside," Dr. Harold Lancer said in an email. He said avocado is a "skin ideal" food because it offers healthy fat in your diet and topically, it's soothing to the skin. Also, this natural anti-inflammatory "helps to improve the skin's barrier function so that it's more resistant to infection, inflammation, and water loss."  
In her new book Eat Beautiful: Food and Recipes to Nourish Your Skin Inside and Out, Wendy Rowe, makeup artist to the stars (Sienna Miller, Kate Hudson and Nicole Kidman are a few of her clients), recommends avocado as an "inner moisturizer." Avocados' monounsaturated fatty acids "keep the skin moist and healthy," Rowe writes, and promote "skin elasticity" while also protecting against cell damage. 
Rose also recommends applying avocado topically as a moisturizing face mask, but if eating truly has all these beautiful benefits, I think I'll stick to actual guacamole. Face guac just felt like a waste of a perfectly good, edible avocado.