Film actors moving to TV in 2017: From Daniel Craig to Reese Witherspoon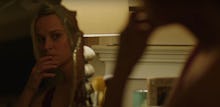 There's a good way to confirm that we're living in the age known as "peak TV": actors. In recent years, huge names like Viola Davis and and Matthew McConaughey made their way to the small screen, and it looks like the trend of major film actors moving to TV will continue in 2017. From Reese Witherspoon and Nicole Kidman in Big Little Lies to Daniel Craig in Purity, here are some major performers transitioning from one medium to another. 
Amy Adams — Sharp Objects
After garnering acclaim for her Gone Girl screenplay, Gillian Flynn is now adapting one of her novels for the small screen: Sharp Objects. Premiering on HBO, Amy Adams will star as Camille Preaker, a reporter who is sent to her hometown after spending some time in psychiatric care to investigate the murders of two young girls. The actress, a likely Oscar contender for her riveting work in Arrival, has appeared in minor TV spots throughout the years — most noticeably in Buffy the Vampire Slayer and The Office — but the eight-episode series will mark her first time leading a show. 
Release date: unknown, but IMDb lists it for 2017
Daniel Craig — Purity
Mr. James Bond will be starring in a Showtime limited series based on a novel by Jonathan Franzen. Purity, an adaptation of Franzen's ambitious novel, tells the story of several different, but connected, characters from around the world. Craig, in his U.S. TV debut, will play Andreas Wolf, a man born in East Germany who runs a WikiLeaks-type company in Bolivia. 
Release date: unknown, but production reportedly begins in 2017
Jude Law — The Young Pope
It may sound a little bit like a joke, but The Young Pope, the upcoming HBO limited series, is anything but. Jude Law stars as Pope Pius XIII, a young American pope — the first of his kind — who has several dreams for the future of the Catholic Church despite failing to fully understand the consequences that come with his position of power. It's Law's first time working in TV, and if the chilling trailer is any indication of how it went, it looks like it won't be his last.
Release date: The Young Pope will premiere on HBO on Jan. 15 at 9 p.m. Eastern.
Naomi Watts — Twin Peaks and Gypsy 
Although she appeared in several episodes of the Australian soap Home and Away back in the '90s, Naomi Watts — the two-time Oscar-nominated actress we know today — hasn't really done any TV work. In 2017, however, the actress will star in both David Lynch's Twin Peaks reboot and in an original Netflix drama. Her role in Lynch's series is hush hush, but in Gypsy, she will play a therapist who develops some seriously unhealthy relationships with "people in her patients' lives." 
Release dates: Twin Peaks is expected sometime in the summer and Gypsy will premiere at a to-be-determined date in 2017.
Reese Witherspoon and Nicole Kidman — Big Little Lies
One of the biggest debuts to come in 2017 is Big Little Lies, an ensemble drama that follows a group of mothers and a mysterious murder. The series also sees two of our best current film stars, Reese Witherspoon and Nicole Kidman, in lead roles. Witherspoon and Kidman play two of the mothers, whose children go to school together. The two actresses are also executive producing.
Release date: Big Little Lies will air on HBO at 9 p.m. on Feb. 19.