Barack Obama expels Russian spies, diplomats from US over election hacks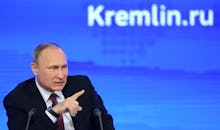 President Barack Obama's administration punished Russia for its cyberattacks that interfered with the 2016 presidential election. The United States will be kicking 35 Russian intelligence officials out of the country and placing sanctions on the country's two top intelligence groups — those responsible for the hacks on the Democratic National Committee and other American political entities.
The 35 Russian officials have been declared "persona non grata" — unwelcome people — and they, along with their families, have 72 hours to leave the country, the Obama administration announced.
The administration will also close two Russian compounds, located in Maryland and New York, that are "used by Russian personnel for intelligence-related purposes."
"These actions are not the sum total of our response to Russia's aggressive activities," Obama announced in a statement Thursday. "We will continue to take a variety of actions at a time and place of our choosing, some of which will not be publicized."
Obama's actions come as President-elect Donald Trump continues to doubt Russia's involvement in the hacks that played a major role during the 2016 campaign.
Trump previously said the hacks could have been carried out by a guy who weighs 400 pounds. Wednesday afternoon, he said Americans should "get on with our lives."
"I think that computers have complicated lives very greatly," Trump said Wednesday at his Mar-a-Lago estate in Palm Beach, Florida. "The whole age of computer has made it where nobody knows exactly what is going on. We have speed, we have a lot of other things, but I'm not sure we have the kind, the security we need."
Democratic officials, however, applauded the sanctions. 
"We need to punch back against Russia and punch back hard," incoming Senate Minority Leader Chuck Schumer said in a statement.
So did GOP Sens. John McCain and Lindsey Graham, who added that they will lead an effort in Congress to impose "stronger sanctions" on Russia.
Even House Speaker Paul Ryan said the sanctions were "overdue" but "appropriate," putting him at odds with the Republican president-elect.
Russian President Vladimir Putin, through a spokesman, said Russia "will consider retaliatory measures" in response to the sanctions.
It's unclear, however, whether Trump will lift the sanctions following his Jan. 20 inauguration.