How to put the kids to bed early with Netflix's New Year's Eve specials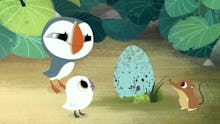 The children in your care on New Year's Eve may think they want to stay up until midnight, but chances are good that their little lids will get heavy well before then. Netflix's New Year's Eve specials will give kids the countdown experience without the long wait. 
"Netflix is all about giving members the freedom to decide when and how to watch, and the New Year's Eve Countdowns do just that," Andy Yeatman, Netflix's director of kids content, told Entertainment Weekly. "They put families in charge of the holiday, whether that means celebrating at 9 and then lights out, or ringing in the New Year over and over again. I have three young daughters, so for us, that means celebrating three times with three different countdowns they each get to choose."
What to watch
Since 2014, the online TV and movie platform has curated on-demand countdowns for kids. This year, show options include Fuller House, Chasing Cameron, Word Party, Puffin Rock, Beat Bugs, Luna Petunia, All Hail King Julien, Skylanders Academy, Trollhunters and Project Mc2. 
For a family-friendly countdown that parents and other adult caretakers can enjoy, try Fuller House, a reboot of the '90s sitcom Full House. Even celebrities do it. Last year, Fuller House actress Jodie Sweetin posted an Instagram picture of her kids watching the countdown. 
How to watch them
Search "countdown" in the Netflix search bar to see the menu of options. Then select the show(s) you want your kids to watch. (Be sure that you don't click on Trailer Park Boys: Countdown to Liquor Day, which is the only adult show to come up as a search result.)
For New Year's Day
If you're thinking of getting some extra sleep on Jan. 1, you will probably need a way to keep early-rising kids occupied. Netflix has released 26 episodes of DreamWorks Trollhunters for that very reason. While you're resting, cleaning up or otherwise recovering from the holidays, your kids can watch 13 hours of this new saga.
"We program our shows around people's lives — not advertising schedules," said Yeatman in a press release. "We know our members are hungry for new content in the slow post-holiday weeks of late December and early January, which is when our viewership peaks. So we teamed with DreamWorks Animation Television and acclaimed filmmaker Guillermo del Toro to launch 26 episodes — the most we've delivered of any original series at once — to give families a new story to enjoy together."
Mic has ongoing coverage of Netflix. Please follow our main Netflix hub here.